Driving on a major trunk road route, with oncoming traffic flying past you at 60mph, you'd hope for some confidence that the road surface is in decent shape.
But anyone who has driven in the north of Scotland in recent times knows that is far from a given.
Drumnadrochit driver Martin Pawsey set up a Facebook page two weeks ago after his car was damaged by this 10-inch pothole on the A82 near his home village.
The page already has more than 900 members.
In the north of Scotland there are plenty of roadside signs advising tourists to drive on the left.
As road budgets plummet and more and more pothole plague drivers, they'd better off telling them to drive on what's left of the road.
The number of repairs being required to wheels damaged by potholes on the roads has soared in the past month, with figures from some garages rising by as much as 400%.
Last month, 75-year-old Colin Mackay required two new wheels, two new tyres and a new suspension to his Mercedes B200 Sport, costing around £1,500, after he hit a pothole on the A832 in Muir of Ord described as "the size of a bathtub".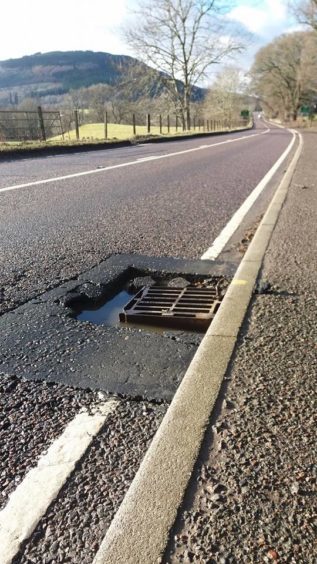 In the north-east, Aberdeenshire councillor Gillian Owen has raised concerns about the road surface on the A90 while in the Highlands, the road condition at the Culloden shops car park has been likened to the surface of the moon.
We're on a mission to highlight the worst ones in the region in the hope that local councils and Bear Scotland can step in and repair them before any more damage is done.
Take a look at our gallery above of some recently examples of the worst potholes in the region and get in touch on stuart.findlay@ajl.co.uk to let us know where the worst ones are in your area.