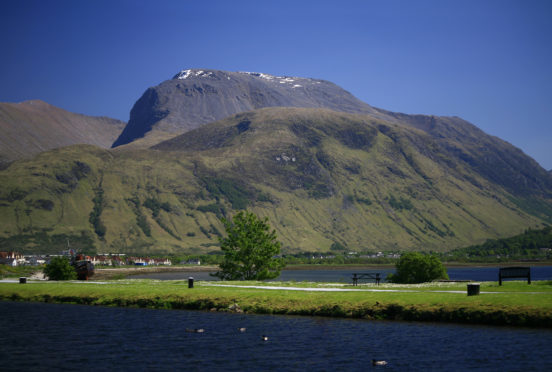 A mountain rescue team leader has revealed that it could be months before three missing hillwalkers in the Highlands are found.
Lochaber Mountain Rescue Team leader John Stevenson said it was "like looking for a needle in a haystack" if, as feared, the men are buried by separate avalanches.
One of the missing climbers, who fell through an overhanging ledge of snow near the summit of Beinn a Chaorainn in the Roybridge area, has now been named locally as Jim Stalker.
The 55-year-old, a local postman and hill runner with Lochaber Athletic Club, was on the 3,440-ft mountain on Sunday when a female companion in her 20s saw him plunge through the cornice. In blizzard conditions she made her way off the hill to raise the alarm.
A 63-year-old hillwalker, Neil Gibson, from Nairn, is still missing in the Achnashellach area of Wester Ross while a Polish man has yet to be found on Ben Nevis.
Mr Stevenson also warned that some hillwalkers and climbers had "no idea" of what it was like navigating in the current dangerous conditions and were risking their lives as a result.
He added: "In whiteout you cannot even see your feet. It is like getting inside a black plastic bag and trying to climb out.
"There is tons of snow on the mountains at the moment. We know the area where the two men who have fallen separately from Ben Nevis and Beinn a' Chaorainn are – but it is too dangerous to search for them. It may be possible at the weekend.
"But it could be weeks, even months, until they are found."
Rescue teams have carried out 14 operations in the Highlands since the start of last week and there has been one fatality. The body of Mr Gibson's 56-year-old brother, Alan, who lives in North Cumbria, was found at the weekend.
Searches for the missing climbers in the past two days have been postponed because conditions are too dangerous.
Mr Stevenson stressed that even when snow and ice thaws and re-freezes again it becomes even harder, and that they have had people missing in avalanches for five or six months as they were buried so deep.
Last night, Cairngorm Mountain Rescue Team leader Willie Anderson also warned of the dangers facing climbers this weekend. He added: "Be flexible with your plans and keep an eye on the avalanche forecast.
"Make sure you are properly prepared and, if things seem to be hinting that the high tops are going to be difficult, then turn back. I would urge people to be careful."
Chief Inspector Neil Anderson, operational support division and land based search and rescue lead for Police Scotland, said: "Unless you are an experienced hillwalker or mountaineer I would advise against venturing into the hills if there is any likelihood of the conditions becoming adverse."