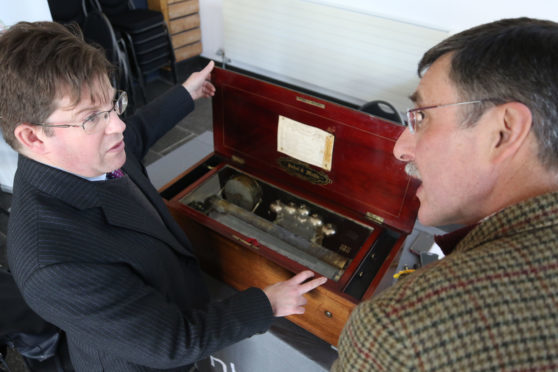 It is one of the country's most iconic sites with its own links to royalty.
And yesterday, a new and possibly regal treasure was unearthed during a valuation day at Culloden Battlefield.
An 1850s Swiss music box was among dozens of items viewed by Bonhams experts yesterday.
The "musical chest" created by Nicole Frere in Switzerland has been described as 'the Rolls- Royce of musical boxes' and is believed to have royal connections to Balmoral Estate. The box is worth an estimated £2000, with experts now eager to track the item's origins, dating back more than a century.
Charles Graham-Campbell, Managing Director of Bonhams Scotland, said the item is "hugely impressive".
He added: "It is a very large and impressive item and families would have had a music box during that time. We think it had royal connections, so we'll work around proving that.
"Normally they are much smaller and usually play six tunes, but this one plays 12 tunes. Its much more impressive and a grand piece of equipment."
Ken Proctor, 60, from Inverness, brought the item along to the event and explained how he came to own the treasured artefact.
The former associate medical director said: "I have had it all my life; it's a family heirloom that dates back to the 1850s.
"I inherited the box from a distant aunt who got it from her father when he died in 1911. He was the factor of Invercauld Estate. It came down from Robert Fogel, the factor of the Estate, to his younger daughter who then gifted it to me. She was a very old lady of about 50 when I was a young lad and I remember going to visit her all the time.
"The story of the box was always very good as it says the box was a gift to him from the neighbouring estate – Balmoral – but I can't find anything one way or another to prove it.
"It's been in the family forever. It's quite emotional to know you may never see it again but I hope it goes to someone who appreciates it or is a collector. It has lived in a cupboard for 50 years."
Several other interesting items were also viewed by the experts including books, jewellery, pictures and Scottish armour.
Valuations of all things Scottish including pictures, works of art, silver, jewellery, ceramics, glass and arms & armour took place at The Culloden Exhibition & Visitor Centre yesterday, with several items being submitted to their annual auction, The Scottish Sale.
Guests were encouraged to donate £5 for up to five items to be valued; with all proceeds being donated to The National Trust of Scotland.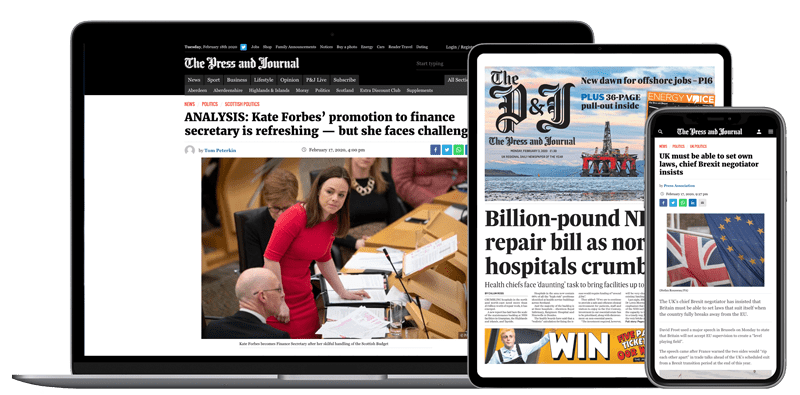 Help support quality local journalism … become a digital subscriber to The Press and Journal
For as little as £5.99 a month you can access all of our content, including Premium articles.
Subscribe