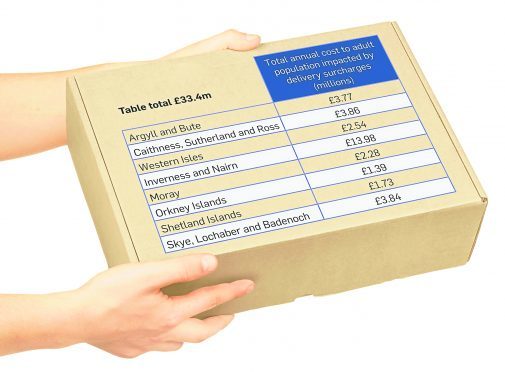 The boss of online retail giant Amazon has pledged to refund customers who have been misled over excess delivery charges.
It is estimated rip-off charges across cost Scots an extra £36million a year.
And yesterday, executives from Amazon, among other online retailers such as eBay, submitted to a grilling from MPs on the Scottish Affairs Committee, which is holding an inquiry into excessive charges.
Director of UK public policy Lesley Smith promised a firm hand with those breaking the rules and offering free delivery before adding on extra charges if the seller refused to drop them.
She said: "If they advertise free delivery they have got to offer free delivery.
"If the seller doesn't sort it out, we will sort it out and have the argument with them.
"The A-Z guarantee is there to ensure every customer has those safeguards and they will be refunded if they have been misled."
The Press and Journal has previously reported sellers on Amazon's Marketplace, made up of independent firms selling through the company's website, have attempted to charge Moray residents for home delivery – despite advertising it was free to the "UK mainland".
Moray Conservative MP Douglas Ross and Moray SNP MSP Richard Lochhead have been among those campaigning for fair delivery charges.
Mr Lochhead revealed how one seller attempted to charge a customer an extra £10 for postage, 12 days after the purchase was made. He has received thousands of testimonials from the public and reported 124 companies to the Advertising Standards Authority for "eye-watering" charges.
He wrote to Amazon urging the business to take action and in January the firm pledged to "remove" those not following its guidelines.
He has welcomed confirmation from both Amazon and eBay they will expel third-party sellers who overcharge customers from their platforms but called for regulatory protection.
"What really angers consumers is when companies advertise free delivery across the whole UK, but then say this doesn't apply if you live in certain parts of Scotland," he said.
"It's welcome Amazon is preparing to enforce the rules on marketplace sellers, but what we really need is real regulation. The UK Government should listen to the overwhelming evidence about the unfair burden faced by consumers and take action."
Mr Ross, who led a Westminster debate on the need to crack down on unfair delivery charges, said: "I was pleased to hear that Amazon will investigate all cases of excessive delivery costs with a view to refunding consumers if they have suffered due to rip-off charges. Immediately after the meeting I discussed this with representatives from Amazon and have already passed on cases on behalf of Moray constituents."
Committee convener Pete Wishart added: "If one good thing can come out of this hearing, we can encourage people who have been hit by these excessive charges to get in touch with Amazon and they will be refunded. I think that's progress."