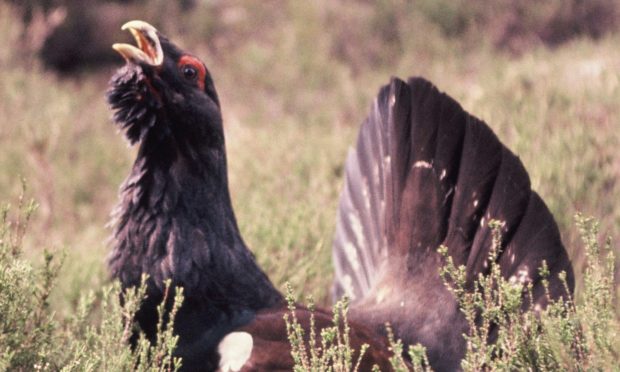 A five-year project to save the rare capercaillie has been given a major funding boost.
The Heritage Lottery Fund has committed £346,500 for the 18 month development phase of the Cairngorms Capercaillie Project with a further £2.25million possible for the delivery phase.
Official figures put the capercaillie population in Scotland at just 1,114 birds but this funding could help to turn the iconic bird's fortune around.
The Cairngorms Capercaillie Project is being hailed as an innovative and ambitious project which has the potential to save the species for future generations.
Cairngorms National Park has the last viable populations with the Badenoch and Strathspey area being particularly significant.
The village of Carr-Bridge has been chosen as a pilot community where they will have a major say on key elements of the project, helping to work up practical ideas that can be tried and tested.
Providing suitable, improved habitat for capercaillie and involving the public in the future survival of the species will be the two main focuses. Key to the project's success is how capercaillie and people can live together.
New jobs will include a project manager and a capercaillie community ranger to develop community involvement. Part-time project posts will include a communications and interpretation officer and a capercaillie advisory officer and assistant to deliver advice and support to landowners.
Peter Argyle, the CNPA's board convener said: "This is absolutely fantastic news for capercaillie and for the Cairngorms National Park. The capercaillie will only survive in its stronghold if the people who live and work in the area want to protect and conserve their bird. Putting people at the heart of conservation is innovative and exciting and is exactly what this project is about. This project aims to inspire a love for capercaillie and central to its success will be the work done with communities to find practical ways for people to enjoy the woodlands alongside the birds."
Environment Secretary Roseanna Cunningham added: "The Heritage Lottery Fund's decision to provide funding to the Cairngorms National Park could be the catalyst for the long-term preservation of one of Scotland's best-known but most elusive animals. The Park Authority has some fantastic, ambitious plans in place for how they hope to help the bird to thrive in the area, and I particularly liked the initiative in enlisting the help of local residents, who arguably feel most passionate about protecting the capercaillie, given its intrinsic links to the Cairngorms area."