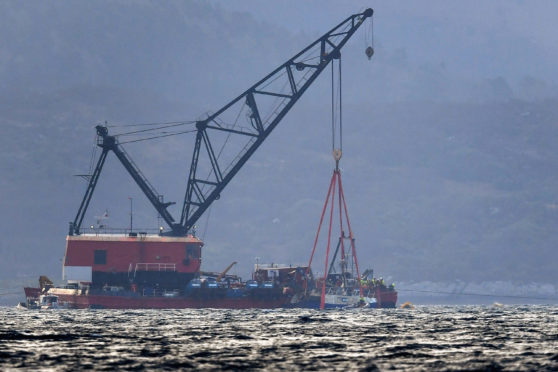 Bodies recovered from the Nancy Glen trawler which sunk in Argyll's Loch Fyne three months ago have been confirmed as those of two missing fishermen.
Skipper Duncan MacDougall, 46, and crewman Przemk Krawczyk, 38, were still aboard the prawn trawler when it sank on January 18.
A specialist barge with a large crane attached raised the boat on Thursday and the Crown Office confirmed at the time that remains had been recovered.
A spokesman said at the weekend: "It can now be confirmed the bodies are those of Duncan MacDougall and Przemek Krawczyk.
"The families have been informed and the bodies have been released to them."
A mandatory fatal accident inquiry will be held as the death occurred at a place of work. No date has yet been set.
The vessel sank near Barmore Island while returning to its home port of Tarbet in Argyll.
It was lying at a depth of more than 460ft before the complex lifting operation was carried out.
The Scottish Government made the decision to recover the boat, which means donations made towards raising the vessel will now go to support the men's families and the survivor, John Miller, who was rescued from the sea by a fish farm boat.
There has been a huge outpouring of support from the local community following the tragedy, with individual donations and fundraising events raising around £300,000.
A large candle had been left burning on the quay to stay lit until the men were returned to their families.