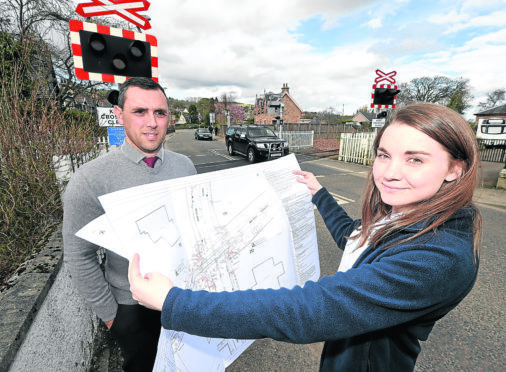 Two level crossings in Dingwall are to receive significant upgrades in a bid to improve safety for train passengers, pedestrians and motorists.
Members of the public yesterday had the opportunity to seek further information regarding the project as a public consultation was held in the Dingwall Community Centre. The Network Rail project team were on hand to address any issues or concerns residents raised.
Alice Wilson, Scheme Project Manager, said: "We want to reduce accidental misuse by pedestrians. People tend to be easily distracted with the likes of mobile phones and headphones so we are doing everything we can to make sure things are as safe as possible."
Currently the Dingwall Middle crossing, where the railway crosses the A862, is only protected by a single barrier on each carriageway. The open crossing at Dingwall Number One is currently not protected by any barriers with both crossings subject to regular trespassing and close calls.
Improvement plans will see both crossings upgraded to full barrier crossings incorporating traffic lights and an object detection system. The objection detection system utilises laser technology to scan the crossing before allowing for trains to safely manoeuvre through.
Craig Bowman, Senior Communications Manager for Network Rail, said: "Generally speaking the feedback from the locality has been positive. The crossings in Dingwall have been an issue that's been bubbling away for near a decade now, so locals are happy to see safety improvements."
"Dingwall Number One is the last open crossing of its type in Scotland. Network Rail are addressing higher risk crossings with improved safety mechanisms."
Works on the improvements are due to begin in April with groundwork teams set to clear overgrown vegetation and conduct ground preparation works.
Road closures are to be expected with Dingwall Middle set to close surrounding roads from Sunday July 15 to Sunday July 29. The Dingwall Number One crossing is expected to cause disruption to motorists for a two week period during August.
Over the past five years, Network Rail has committed to installing 21 barrier systems at open crossings across Scotland, with Dingwall set to be the last to be completed.