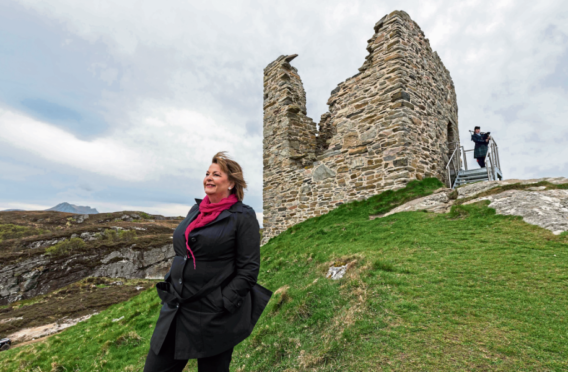 Cabinet Secretary for Culture, Tourism and External Affairs Fiona Hyslop MSP has opened a viewing point at Castle Varrich in Sutherland following £360,000 of restoration works.
The platform gives tourists views to Ben Hope and Ben Loyal as well as out across the Kyle of Tongue and is on the North Coast 500 route.
The historic ruins date back to the time of the Norse Warriors in the 11th century and the origins of the Sutherland Clan in the 15th century.
Cabinet Secretary for Culture, Tourism and External Affairs Fiona Hyslop MSP said: "I commend Wildland Limited and Historic Environment Scotland for their incredible work in restoring this iconic castle, ensuring the landmark is preserved and can now be enjoyed by local communities and tourists alike.
"As we celebrate 2018 Year of Young People, I am pleased to open the castle's new viewing platform with the local school children and their teachers who have contributed to the development of the project. With its stunning views over the Kyle of Tongue and beyond, the platform will be a welcome boost to rural tourism to the area – encouraging travellers and users of the North Coast 500 to stay longer."
During the project, architects were able to uncover some of the Castle's secrets.
Leading conservation architect Nick Groves-Raines said: "The building definitely had two floors; possibly a timber ground floor over the sloping bedrock (perhaps with a hatch to a store underneath) and an upper floor on a barrel vaulted arch.
"Given the thickness of the walls and the evidence of the timber roof structure, it is likely that the building used to have a parapet wall-walk, and although we will never know for certain, it does look likely that the building was a look-out or beacon in a classic defensive position."
As part of her trip to the Highlands, Mrs Hyslop MSP also visited a number of businesses owned by EU nationals including the Golden Eagle Zip Wire in Durness, established by Estonian Aro Kalijuste.
She said: "The Golden Eagle Zip Wire is a clear example of a successful business set up by migrants, which highly benefits Scotland's rural and tourism economy and provides a heightened visitor experience for tourists to the area.
"Scotland's remote and rural communities heavily rely on workers from the EU in a range of sectors. The tourism sector alone provides more than 200,000 jobs across Scotland – 21,000 of which are held by non-UK EU nationals."