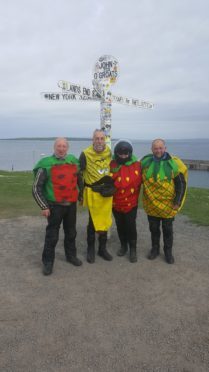 A group of bikers have travelled the length of Britain to raise more than £2,300 for the Highland Hospice.
George Maciver, 54, from Inverness became an active fundraiser for the charity seven years ago and has so far raised more than £10,000 for the charity.
In his latest feat, accompanied by Kevin and Diane Morrison on their motorbikes and Lenny Cameron on a scooter, the team known as the Pinot Warriors travelled the 900 mile journey in just 18 hours, raising £2,350; £1,850 more than their initial target.
Mr Mciver said: "It's been amazing. We always set a target but it's amazing that we got more than expected.
"On the way down we had a bucket on the back of the bike and we raised £110 when we stopped for fuel. People came over to have a blether and find out what we were doing."
Adding a twist to the day's festivities, the team dressed up as pieces of fruit, a move Mr Maciver said helped to bring in the donations.
He added: "Down south on the way back up we pulled into the petrol station and this woman behind us pulled in and stopped. She could see we could see we were doing a charity event and she gave us £5 in the bucket and bought us a big bag of sweets. People like that inspire you to push on and get it done. It's nice to meet all the people along the way; it makes all the difference."
Meanwhile, Elijah Forsyth and Isaac Lawton, 20, from Ullapool are on the final stretch to the north after cycling the same route to raise funds to combat multiple sclerosis.
The pair, dressed in frocks, began their journey on June 8 and are expected to arrive at John O'Groats on Thursday.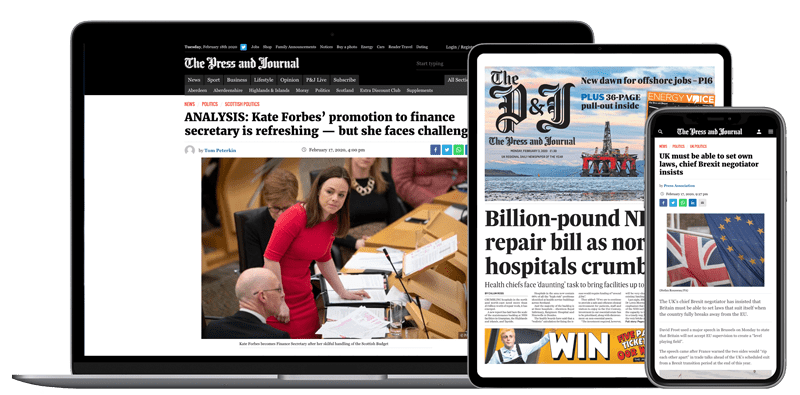 Help support quality local journalism … become a digital subscriber to The Press and Journal
For as little as £5.99 a month you can access all of our content, including Premium articles.
Subscribe