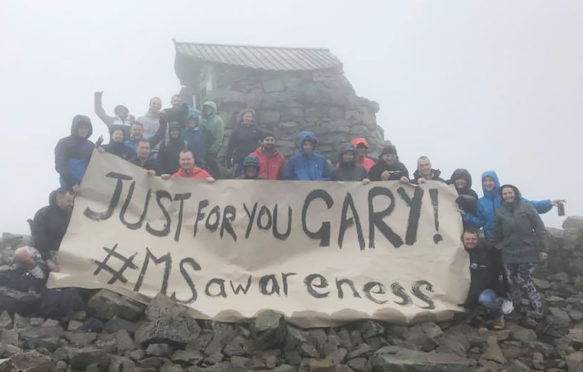 Family and friends cooked up a feast at the top of Ben Nevis and raised more than £5,000 for the vital stem cell treatment needed for a Lochaber multiple sclerosis sufferer.
Gary Campbell, 30, was diagnosed with primary progressive MS in April last year and his condition has since deteriorated to the point where he needs a wheelchair for getting around outside his house.
He is hoping to undergo a specialist treatment in Mexico which involves extracting stem cells and re-injecting them into his body to help reboot the nervous system.
And on Saturday his friend, Stewart Maclachlan, head chef at the Crannog Seafood Restaurant in Fort William, led a group of between 40 and 50 people up the UK's highest mountain in foul weather for a "cook out" which has, so far, helped to raise more than £5,000.
Burgers, sausages, salmon skewers and pizzas were among the delights served up at the summit.
Mr Campbell, who lives with his partner Leanne Crawford in Caol, said: "I am totally overwhelmed by the whole community rallying round for this, as well as the MS nurses and neurologist who have worked wonders for me."
The former bricklayer was diagnosed with the condition last April, but had been experiencing the symptoms for several years beforehand.
When he started falling over and getting headaches and blurred vision, he thought it may have been a brain tumour and was actually "relieved" to be told it was MS.
Mr Campbell said he had been working 12-hour shifts doing civil engineering work and was undertaking driving lessons right before his diagnosis – but the illness put a stop to it all.
After six months of "hell", he was put on a drug called Fampridine which he says helped mitigate the symptoms.
In recent weeks, he has started another drug specifically targeting primary progressive MS called Ocrelizumab, which he says has since been taken off the NHS in Scotland.
The effectiveness of this new medication will be reviewed by medics after six months, but if the drug does not work, the stem cell treatment will be the only option.
Miss Crawford said that, so far, they have raised about £32,000 towards the stem cell treatment through various types of fundraising.
She added: "If he does not try this treatment, then he could end up as a cripple, as he has deteriorated so much in the past year."
Anyone who wants to donate should visit https://www.justgiving.com/crowdfunding/claire-maclachlan-2?utm_id=107&utm_term=ed7Kr63yd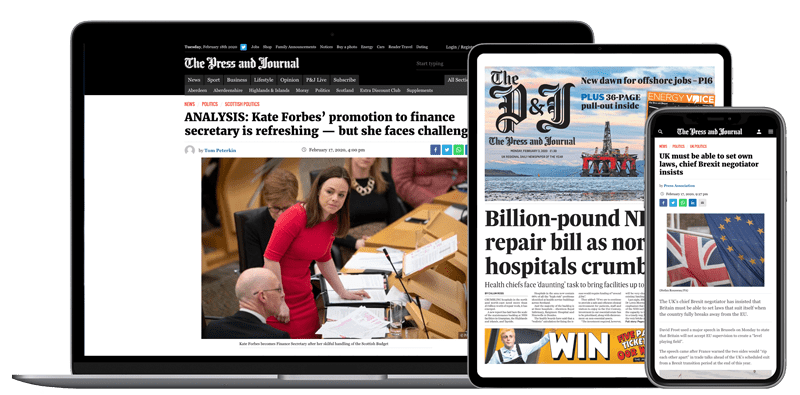 Help support quality local journalism … become a digital subscriber to The Press and Journal
For as little as £5.99 a month you can access all of our content, including Premium articles.
Subscribe