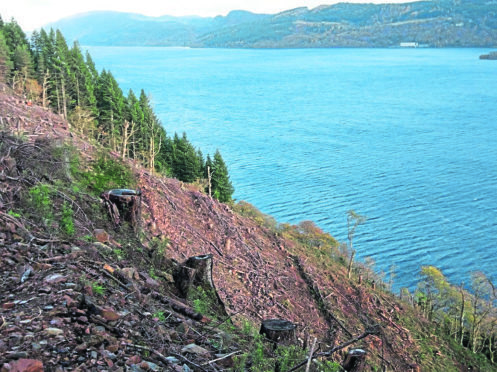 An 18-month operation to fell trees has finally concluded near Primrose Bay on Loch Ness leading to 5,300 tonnes of timber being harvested.
The Forestry Commission revealed that among the thousands of tonnes of timber was one enormous nine metre log that is set to be made into an Iron Age wooden canoe.
It is part of 10 to 15 year operation to clear mature timber that could pose a risk if a tree came down in high winds on the very steep slopes above the A82.
The trees were planted in the 1920s and 1930s when the road was considerably quieter than what is today a busy trunk road.
Failure to harvest the trees – which have reached maturity – would "increase the risk of them being brought down by heavy winds."
The challenging work ended in June and involved years of planning and preparation to complete the operation safely and effectively.
Measures facilitating the work included upgrading forest roads and erecting a temporary catch fence to protect the busy road beneath from rubble loosened during timber extraction.
The Commission said the trees had to be felled manually by chainsaw prior to being extracted using the sophisticated pulley Skyline system.
Area Operations Manager Alex MacLeod covering the A82 Project said: "We are pleased with the success of this latest felling which required considerable effort from Forest Enterprise Scotland staff to plan and manage the operation.
"Over the years we have engaged with communities and key stakeholders as well as established a collaborative working relationship with Transport Scotland to help ensure a successful project.
He added: "Work onsite is now finished and traffic management has been removed but we expect post felling slope stability remedial work to be carried out on the recently felled area over the autumn and winter."
Mr MacLeod confirmed that "future felling operations alongside the A82 are being planned taking a risk based approach" and the next commencement is likely to be from 2020 onwards.
The A82 Project was set up to safely manage tree felling in the A82 corridor in the Great Glen to improve resilience of the A82 to storms.
A Transport Scotland spokesman said: "We have been working closely in partnership with the Forestry Commission on their long term tree felling programme along the A82 at Loch Ness.
"Each stage of their works is carefully planned to mitigate disruption to the road travelling public and involves detailed consultation with stakeholders prior to the start of each new phase of their operations."