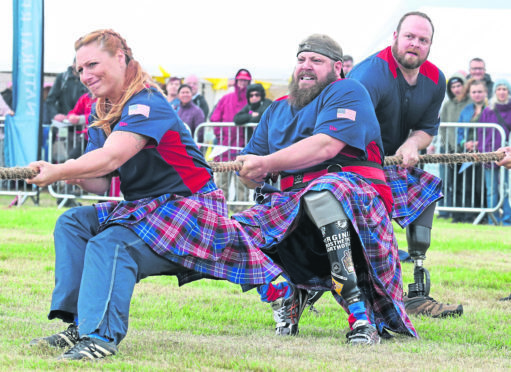 Plans are in place to form an official UK Highland Games Team after a group of wounded veterans took part in Scotland's first Para Highland Games in front of Prince Charles at the weekend.
With the support of Help for Heroes charity, history was created when 2,000 spectators watched disabled veterans from all over the UK take part in the Mey Highland Games.
They were joined by para athletes from America and Australia at the event in John O' Groats on Saturday.
Prince Charles is Chieftain of the Games and invited Help for Heroes to enter a team.
Organisers from the Royal British Legion Wick, Canisbay and Latheron Branch invited both para and Invictus athletes to compete in traditional Highland track-and-field competitions, the first time that disabled competitors have been included within a traditional Highland Games in Scotland.
The Mey Games were such a success that the Help for Heroes team has been invited by their American opponents to compete in adaptive Highlands Games events in the USA and are now seeking sponsorship to make it a reality.
David McNeill, Help for Heroes head of recovery, north, said: "People from far and wide were captivated by the athletic prowess and spirit on display in the arena. HRH The Duke of Rothesay was clearly delighted the veterans were able to bring something different to his games and took the time to speak to every single member of the team."
Mark Airey, physical development coach with Help for Heroes, said: "Being asked to participate in the Mey Games, alongside teams from all over the world, was a real honour. Help for Heroes is the leader in para sport for wounded veterans, so we are delighted to support Scotland's first adaptive Highland Games."
Veteran Simon Flores, 38, has a prosthetic lower left limb after losing his foot in an explosion in Iraq in 2006. He signed up for the Mey Highland Games to challenge himself and to inspire others.
After coming second in the para caber toss, he said: "I wanted to show that, even though I only have one leg, I can still move forward and achieve goals."
The Help for Heroes contingency enjoyed the experience so much that they now want to form an official UK Adapted Highlands Games team along the lines of the American one that they competed against at the weekend. The British para athletes have been invited over to the States to take part in a US Games next March.