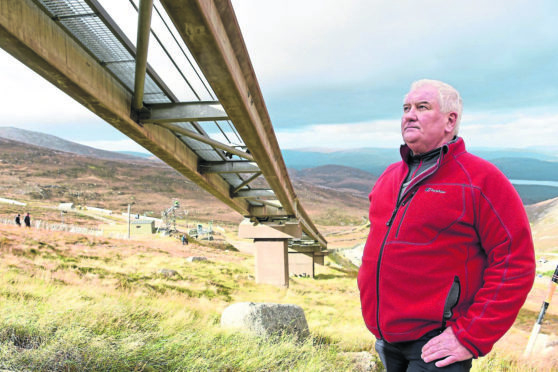 In the ten seasons from 2004 to 2013 CairnGorm's skier numbers averaged 78,010 and the centre's market share grew from 35.6% to 40.6%.
But from 2014 to 2018, the market share plunged to 23.6%, and skier numbers dropped to 60,258.
Meanwhile, numbers grew at Glenshee, Nevis Range and Glencoe.
Aviemore Business Association's Alan Brattey said: "Customers had over time become disillusioned with CairnGorm because of the reduction in available infrastructure.
"The hill lost three significant surface tows, and catering capacity because The Sheiling building was closed down.
---
>> Keep up to date with the latest news with The P&J newsletter
---
"At around the same time the other areas began to improve their product, particularly Glenshee and Glencoe with new infrastructure beginning to appear.
"We've been calling it 'the drift away' since 2014, but it accelerated last winter after HIE demolished the chairlifts in the summer.
"The important factor was here was the Save the Ciste campaign for years to have the chairlifts refurbished, and HIE didn't listen.
"We were completely taken aback by the hundreds of posts on social media about it, in the middle of the summer when skiing is the last thing on people's minds.
"People were saying 'that's me, I'm finished now, it's Glenshee or Glencoe for me, and that transpired last winter into a major collapse in market share, from 39.6%  in 2017 to 23.6% in 2018."
Save the Ciste campaigners have written an open letter to HIE demanding that all available funding "be committed to new uplift so that in the future, the hill business and local economy are not hostages to the dysfunctional funicular railway."
The letter goes on: "HIE have proven beyond any doubt that it is an organisation that simply does not have the competence or ability to effectively manage the Cairngorm Estate.  Ownership of that public asset must be transferred to the local community via the Aviemore and Glenmore Community Trust. The Trust and community have the skills, knowledge, ability and passion to turn the years of neglect around and make the CairnGorm Mountain business the success that it will never be with HIE in control."