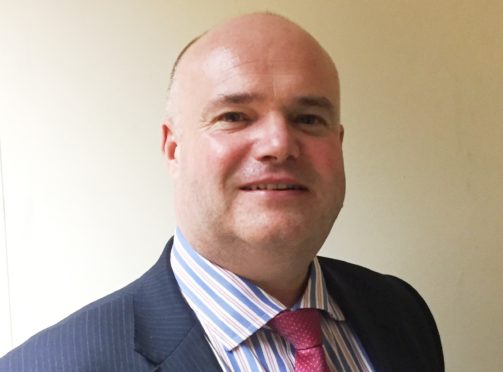 The new boss of beleaguered NHS Highland yesterday revealed plans to overhaul his senior management team and controversially create a new depute chief executive post – as it faces another massive multi-million pound shortfall and a bullying scandal.
The move has sparked concern among union chiefs and politicians who claim the "high-paid job" was coming while lower salaried staff "at the coal face" are "crying out for more resources and support".
Iain Stewart's restructuring announcement was made to board members as he confirmed the health authority – currently at the centre of a review into bullying claims – will next week seek "brokerage" for yet another year from the Scottish Government to plug a £17million financial black hole.
Last year it was £15m.
Board member Adam Palmer, who is also a GMB union spokesman, said: "In some quarters this will be perceived as creating a new high-paid job when out there we have trouble filling vacancies and every pound is being scrutinised and looked at.
"We are creating another senior level job while we are struggling on a daily basis. What is the cost of this new proposal?"
The new deputy chief executive post will take on the role of finance and corporate services director, which is currently vacant.
---
>> Keep up to date with the latest news with The P&J newsletter
---
Mr Stewart, who took up his £137,000 job at the crisis-hit authority three months ago, was unable to say how much the newly created deputy post would be paid – although expected to be a six-figure salary – but was adamant: "This is a post we absolute need, without a doubt."
Highlands and Islands MSP, and shadow health minister for Labour, David Stewart, said: "Any restructuring in management will be viewed closely by many who will have concerns about highly paid senior managers being brought in to help address some of the ongoing issues within the board, whilst staff at the coal face are crying out for more resources and support.
"That said we should not second guess the new chief executive at this stage and only time will tell if money has been spent in the right areas."
Conservative MSP Edward Mountain said: "These significant changes to the management of NHS Highland prove, as I have continually stated, that the existing executive board wasn't working.
"I hope the new structure will lead the excellent healthcare professionals we have to deliver the healthcare we need. I will be watching carefully to make sure it does."
The chief executive said the creation of a depute chief executive was part of his overall six-month plan to "evolve our senior leadership team and make us fit for the future".
He added: "The structure we have at the moment does not help us move forward as an organisation. I don't believe our structure is fit for our direction of travel.
"We must ensure we have the right structure in place at the top with senior leaders. At the moment we can only have six or seven people reporting to the chief executive, but with my plans moving forward there will be more than that and that requires a deputy."
As well as advertising for a new depute within the next week he will also be seeking a director of human resources, another post which remains vacant.
Mr Stewart is this week also interviewing for the post of head of communications.
Newly appointed chairman Professor Boyd Robertson, appointed last month by health secretary Jeane Freeman following the resignation of David Alston, said: "It is expanding the role and providing Iain Stewart with a depute. It is a gap."
Board member and Highland Councillor Alasdair Christie added: "It is the right way to go for the transformations we need to make."
Yesterday's board meeting was the first for both the chairman and chief executive. Last month David Alston resigned as chairman and Rod Harvey left his role as medical director. Elaine Meade retired as chief executive at the end of last year.
The departures come prior to the publication of John Sturrock QC's review of bullying allegations, expected next month.
A group of whistle-blowing doctors prompted the review after alleging that a culture of bullying had been systemic in NHS Highland for more than 10 years.