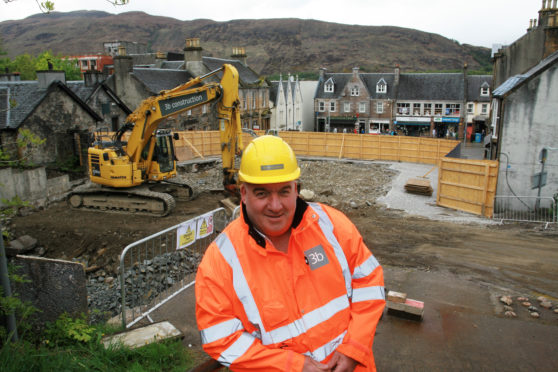 The first turf has been dug at a cinema project for Lochaber.
The enterprise will create 20 jobs – with at least 12 of them being year-round positions.
The Fort William cinema was granted planning permission only a month ago, yet construction company 3B are already onsite and foundation works for the building are under way. The building is due to open in May next year.
The year-round cinema will have two screens, a cafe bar area and a stage for music nights. It is being built on the same site that the town hall occupied, on the high street at the top of Cameron Square.
Developer Angus MacDonald, who has worked with the local community for the privately-funded project told the Press and Journal that the first stage of works had been completed much more quickly than expected.
Mr MacDonald said: "We got planning permission about a month ago and we waited for a short time for a building warrant.
"We are about a month behind where we wanted to be at this point, but our first stage of the development progressed much faster than we though it would. We had set aside ten weeks for the demolition of the building and it was completed in less than half that time."
Entrepreneur looking to set up two-screen multiplex in Fort William
However, a delay has occurred after it was discovered the building was built on sand, rather than the stone and the foundations for the next building would need to be built deeper than was initially expected.
Mr MacDonald has had to meet stringent rules laid down by planners – one of which was to enter into a public arts scheme.
After arguing the cinema itself was a commitment to the arts in the Highlands, the developer is considering organising a photography competition of characters in Highland life, for example shepherds, fishermen, foresters with a cash prize and display of winning portraits.
The exterior of the building will incorporate design features such as etched glass or art within the paving area.
"In terms of the opening date we are hoping for May 2020 to catch the trade from the summer."
"The cinema will create 12 year-round jobs and a further eight people will be employed seasonally. Hiring will start in January 2020.
Films  due to be screened in the summer of 2020 include sequels to Peter Rabbit, Avatar, Minions as well as a new Marvel release, Green Lantern Corps, The Flash and the latest in the Fast and Furious series.