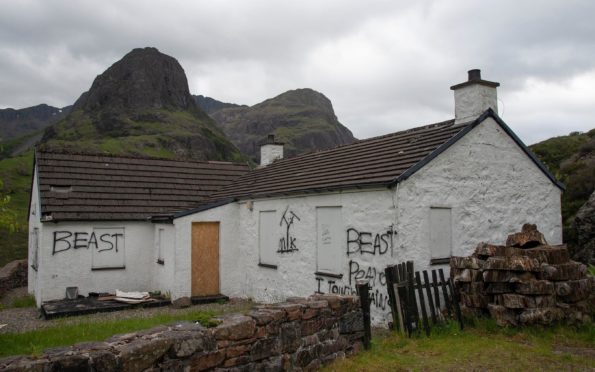 A Highland cottage previously owned by Jimmy Savile has been targeted by vandals once again.
The shamed DJ and TV presenter, who police believe may be one of Britain's most prolific predatory sex offenders, lived in the property at Allt-na-Reigh in Glencoe from 1998 until his death in 2011.
The word "paedo" has been daubed on the side of the hillside house, which sits beside the A82 Fort William to Glasgow road.
The graffiti has prompted safety fears from locals who are concerned that motorists slowing down to read the writing could become distracted and get involved in road accidents.
Ward councillor Andrew Baxter, who lives nearby, said: "This has been a long-standing problem.
"From pretty much the moment after Savile's death, people started vandalising the house and putting up graffiti. We had hoped those days had gone."
Following Savile's death in 2011, the two-bedroom bungalow was put up for auction.
It was purchased for £212,000 with the buyer intending to live there, however work to renovate it is yet to begin.
Mr Baxter added: "I am disappointed that, for whatever reason, the new owner has not been able to turn it into a home – which I think would bring all this to an end.
"Savile has been dead for a long time and his crimes were horrific.
"But leaving his mark in the middle of Glencoe is, in many ways, just perpetuating the memory of what he has done.
"I would rather his connection to Glencoe and Lochaber is completely erased."
Some have argued that the property should have been demolished, while others said it should remain because of its historical significance.
It was once home to mountaineer Hamish McInnes, who formed the Glencoe Mountain Rescue Team and was responsible for pioneering the wider mountain rescue movement in Scotland.
Rodney Kumar, from driver safety charity I Am Road Smart, said: "Drivers should not be distracted by anything going on away from the road or pavement – driving demands your 100% concentration and there are no excuses.
"Anyone slowing to look at something away from the road runs the risk of causing a crash by causing other drivers to brake and stop suddenly."
He added: "If a tragedy is caused by a reason as unnecessary as this, it makes matters so much worse."