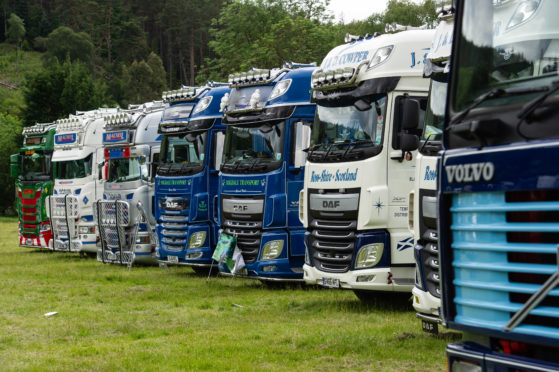 Scores of truck enthusiasts parked their huge vehicles to the banks of Loch Ness at the weekend for a festival celebrating their passion.
TruckNess, which brings together HGV aficionados from across the country, took place on Saturday afternoon at Clune Farm near Dores on the east shore of the loch.
Some visitors to the event travelled across the Irish Sea specifically for it, and hailed the warm and friendly welcome they received.
Organisers estimate that between 2,500 and 3,000 people attended over the course of the weekend, making the this year's TruckNess the biggest ever.
People began to arrive on Friday evening, filling much of the Dores field as they departed their vehicles and headed for the Truckers Party, where live music was provided by Ezra and the Astar Ceilidh Band.
The gathering brought together various activities to provide entertainment for the whole family – from huge inflatable zorbs which revellers were able to spin and bounce about in, to a tug of war.
More truckers rocked up on Saturday morning with their vehicles in pristine condition, ready to be thoroughly analysed.
Lead organiser, George MacLennan, said: "The bands on Friday night were great and it really kicked off the show with a good atmosphere – although many of the truckers were too busy polishing their vehicles to party.
"Over the course of the day we had somewhere between 2,500 and 3,000 people, which is just brilliant."
Separate sections were put in place for cars and motorbikes and, for the very first time, a vintage tractor section was included.
Mr MacLennan added: "We only really expected a handful of vintage tractors, so to get 14 was brilliant. The section went down very well and everyone seemed to love seeing them.
"We have even had a request today to bring in a section for newer tractors next year, so it really is getting bigger and bigger each year."
There was a touching tribute on display, with Christine Langham's The Poppy Truck featuring a field of poppies and the words of the war poem written by Canadian physician Lieutenant-Colonel John McCrae, In Flanders Fields.
Mr MacLennan said: "We are incredibly happy with the feedback we have received and so far everyone has told us just how much of an enjoyable day they had.
"We changed the venue to Loch Ness this year and it went down really well. Everyone just loved the location.
"It was a great day for all and probably the best show we have had yet."