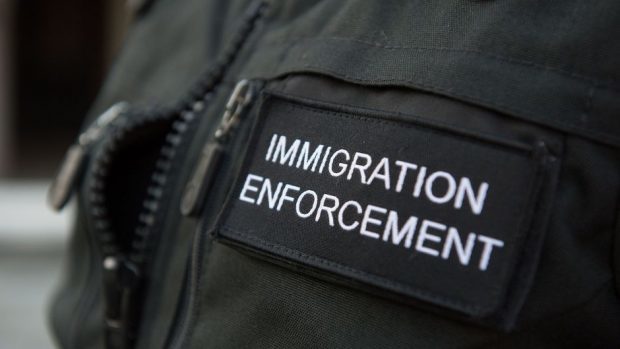 Six people have been detained following a string of visits to Highland premises carried out by immigration officers.
The operation, which focused upon Inverness and Dingwall, was led by the Home Office's immigration enforcement team, acting on intelligence that workers at two premises did not have the relevant paperwork in order to work in the country.
One of the premises – Ding's Chinese Restaurant in Dingwall – was served with a penalty notice that could bring with it a fine of £20,000 should it be found that the relevant checks for employment were not undertaken.
Two other men were also found to have overstayed their visas in Dingwall, prompting action from the agencies involved in the operation which was undertaken on Friday.
The operation brought together numerous organisations, as the immigration enforcement team were joined by colleagues from Police Scotland, HMRC, Trading Standards and the Highland Council's environmental health team.
Officers swooped on Afrin Hair and Nails at Inverness' Eastgate Centre where three Vietnamese men – aged 20, 24 and 28 – who had all entered the country illegally were discovered by officers.
The 24-year-old man was arrested and detained pending his removal from the country, with the other two men were placed on immigration bail while their cases are progressed.
In Dingwall, officers homed in on Ding's on the town's High Street, where a 47-year-old Malaysian man was arrested for working in breach of his visa conditions.
He was detained pending curtailment of his visa and removal from the UK.
A Home Office spokeswoman said: "Ding's Chinese Restaurant was served a civil penalty referral notice warning that a financial penalty of up to £20,000 will be imposed unless the employer can demonstrate that appropriate right-to-work document checks were carried out, such as seeing a passport or Home Office document confirming permission to work."
Two Bangladeshi men – aged 37 and 38 – were also arrested by officers for overstaying their visas, with both men detained from Dingwall's Tulloch Street ahead of removal from the UK.
Gregor MacCormick, Highland Council's senior environmental health officer, said "a number of health and safety issues" were found at Afrin Nail Bar, with the team also attending Ding's Chinese Restaurant.
Enforcement has been taken on the nail bar with food safety and health and safety arrangements assessed at the Dingwall eatery.
He added: "The Environmental Health Service will be continuing to work closely with all our partner agencies to conduct such interventions in the future in an effort to improve standards, and will not hesitate to take appropriate enforcement action against those employers who fail to meet basic legislative requirements for food safety, health and safety or standards in staff accommodation."
Afrin Hair and Nails and Ding's Chinese Restaurant have both been approached for comment.