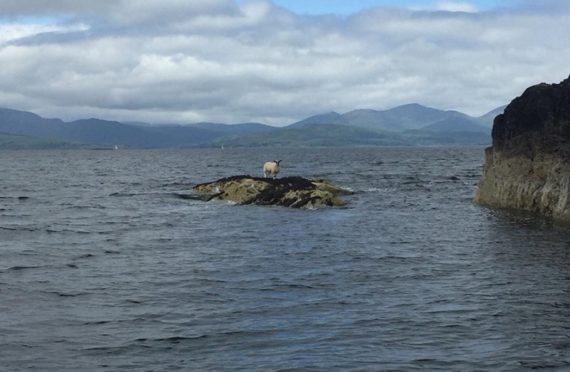 A sheep was rescued from a perilous position on a rock by some passing sailors, after it had become surrounded by water while enjoying some seaweed on a small crag.
The black-faced sheep had obviously made its way onto the rock whilst foraging for food at Loch Feochan, a few miles south of Oban, when the tide turned and it was stuck with nowhere to go.
But thanks to a passing small passenger boat, owned by local sailors Coastal Connection, the sheep was rescued after an operation involving the boat's captain fishing it out of the sea, just in the nick of time, and putting it back onto the shore.
Captain Cameron Smith explained: "We were heading from Loch Feochan to Oban for a wildlife trip.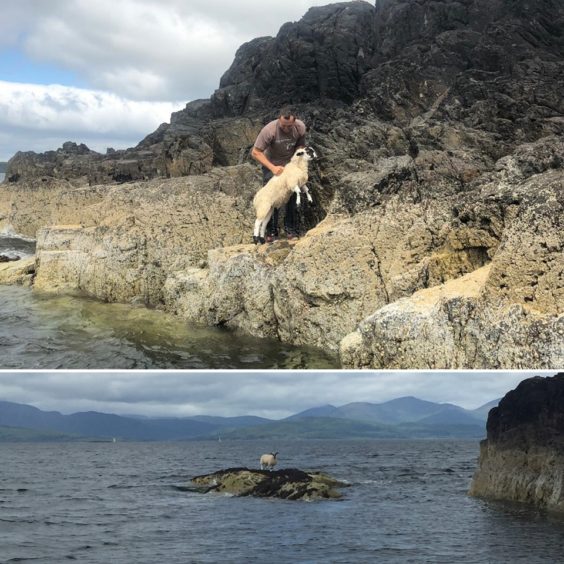 "On the way out I  spotted a sheep on a rock munching some seaweed. That's not an unusual site as there are often sheep on the lochside and down onto the beach.
"However, the only issue was, the tide was coming in fast and the rock was about to be completely covered in water – taking the sheep with it. It would have wandered across at low tide, and not realised it was in any danger.
"I was worried that it might get washed away, so I messaged my brother, Struan, who was still at the boat yard, to help get the sheep to safety."
Twin brothers Cameron and Struan live on Loch Feochan and the three Coastal Connection boats are kept at the top of the loch.
Mr Smith continued: "Struan and our crewman, Robbie De Sadeleer, came round in a wee boat so they could land on the shore, and help the sheep."
---
Local and Proud: Follow our new Facebook page dedicated to the Highlands and Islands
---
Both Struan and Cameron are supporters of Oban Lorne Rugby Club and train with the team as often as they can, but lifting the wet sheep out of the water was still a challenge, Mr Smith said: "A wet struggling sheep can very heavy at the best of times.
"But undeterred, Struan still donned his velcro gloves and jumped onto the rock to rescue the sheep.
" He managed to pull the drenched animal from the sea, and put it back on dry land before it skipped off to be with the rest of the flock."
Mr Smith said he has never seen a sheep stuck on a rock before, and thinks the beast may have been a lamb who didn't know any better.