It is the biggest stay-on-site music festival in Scotland, but people absolutely love it for the community spirit it creates.
Kicking off in lovely sunshine, the music lovers at Belladrum had important matters on their minds yesterday – meeting up with old friends, and making new ones.
This unique event, which welcomes the population of a small town onto the Belladrum Estate, is renowned for reunions and forging new relationships – and the people who have been attending for the last 15 years won't hear a word to the contrary.
Belladrum 2019: Highlights from the first day of this year's festival
Brian Wilson, from Carluke, said: "I was born and brought up in Inverness and I have no family left in the area as we all moved to the south.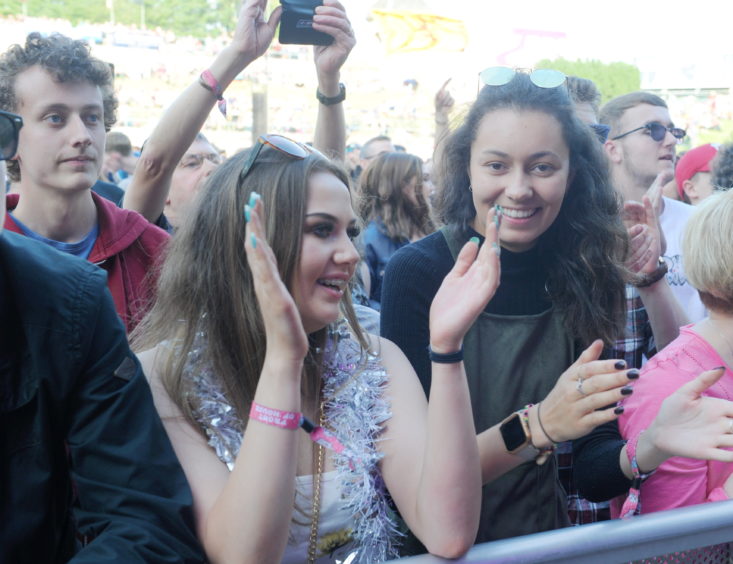 "So coming to Belladrum is like coming home to be part of one big extended family.
"We stay in the same campsite every year, we arrive on the Thursday morning and we just relax, enjoy the music and the entertainment.
"Over the years, we have made a whole host of new friends and it is lovely to see them year after year.
"We now keep up on Facebook for the rest of the year, but we mainly spend out time together at Belladrum."
Shona West from Dunoon said: "I have a great friend who I meet once a year at Belladrum. We worked together in a hotel in Beauly when we were students in the 1970s and we never see each other.
"But, a few years ago, we decided that we would go to one festival together a year – and we chose the one on our old home ground.
"We have an entire weekend of laughter. We have a saying "what happened at Bella stays at Bella" – mind you, the most exciting thing we do is stay up after 10 o'clock."
Although the scale of the festival can be quite daunting for those attending Belladrum for the first time, Ben Stobbs from Falkirk said: "Everyone seems to know everyone, and me and my pal really wanted to see Elbow, so we decided to come along for the whole weekend.
"It is incredible. We are camped beside about 40 people who seem to have come from the same small village so they have said we should just join in with them for the festival.
"They made our lunch for us – which was really, really nice of them. It is like one big family. I have no doubt we will be back next year."
The festival got off to an exhilarating start with very few glitches on its first day.
There were traffic tailbacks yesterday morning around Inverness and Beauly, but organisers reported later on that attendees had arrived safely at the venue.
Scotland's biggest family-friendly music was typically busy, with camping and camper van sites opening earlier than advertised to allow early entry.
With more than 20,000 people arriving on site, there was greatly increased traffic to the site at Belladrum Estate on the outskirts of the north town.
A spokesman for the festival said: "99% of people are already going to have arrived on site on Thursday morning. And almost everyone is on site on the first day.
"So, we are not expecting any traffic problems for the rest of the week.
"What we are finding is that people are arriving earlier and enjoying being here for the full three days."
The spokesman added that the festival was unique for its atmosphere, because so many of the staff and the bands were from the local area.
He continued: "It has been absolutely fabulous so far and there is already a great vibe going on with people getting into the festival atmosphere."
He revealed that the camping and caravanning sites had been opened earlier than advertised for festival goers.
One camper, mum Shelly Smith said: "We got here early and the kids are all settled in for the weekend. It is only 4pm and we have already had so much fun. The kids will be tired out early and I will leave them with the hubby,and be off to see Elbow child free.
"That is a perfect day in my book."
However, John Gregg wasn't quite so happy. He said: "I got the time wrong this morning and I thought that the gates opened at 6am, so I had to wait to get in.
"But the doors opened early and we got in and settled.
"We are looking forward to a great weekend, and the weather is going to get even better. If the midgies stay away it will be almost perfect."
Organisers are expecting more than 14,000 people to stay on site for the event – with campsites and caravan spots filling up very quickly by Thursday lunchtime.
Making their Belladrum debut
They are one of the longest performing progressive rock bands in the UK, and this year Hawkwind will release new material based on some of the most innovative scientific research.
The English band were making their debut at Belladrum festival and brought with them a loyal following of fans who were keen to hear from them during an interview in the Verb Garden yesterday evening,
Over the years Hawkwind have famously seen a large number of line up changes, but the current crew of Dave Brock, the only original member, Richard Chadwick, Niall Hone and Magnus Martin say that, even when playing from the extensive back catalogue, they bring something fresh to the style that they are known for.
Brock argues that band members should not be trying to mimic former styles.
He said: "What I want from new band members is their style, their freshness, what they bring to this band at this time is so important for us to continue to make music that delights our audience."
However, Martin claims that some of the members who are no longer with the band are people that he was influenced by.
He says that, in his ultimate line up, he would love to have the opportunity to play with former colleagues.
He said: "Everyone who has been in the band has influenced us in one way or another and made us what we are now.
"Over the years, people have passed away or gone onto new projects, but there are some people who you would have loved to have been with. There is no doubt about it."
Joining the band was something of a dream come true for Chadwick, who said: "I went to a small festival in the south of England. I had never been to a festival before, it was in 1974. And it seemed to go on for months, maybe a month or something.
"I remember the first time I saw Hawkwind and I thought – 'wow, I want to learn how to play an instrument that allows me to play with them and to make music'."
Brock says he remembers when Hone was born, and then when he started taking an interest in music. Hone, now 51, says he loves playing with Hawkwind.
He said: "Writing and performing music with these guys is something really special. We are making music that continues to reach out and touch people."
Hawkwind played the Hot House stage last night.
Poets Express
Meanwhile poetry was the order of the day for a small group of radical thinkers who want to get their message across at Belladrum.
Poets Express – Carla Woodburn, Adam Grieg, Lesley Traynor and Angie Strachan – were keen to show that, when the music fails, all that will be left are the words.
Traynor, a science academic by day and poet the rest of the time, said: "In the times of disruption the poets step forward.
"Poetry so important for expressing those things that would otherwise be left unsaid. You can't dress it up. It is raw, and relevant and can change the way that people think.
"Censorship is all around us, but in poetry language is the way in which the express the hard things, the ways in which we live our real lives  – in many cases with out all the fluffiness.
"We are four poets who known how much the spoken word matters and we want people to believe in themselves to stand up and say the words they want to say. To share their experience, however difficult that may be for them"
The poets are hosting a slam dunk poetry competition on Saturday to which anyone is invited to come along and give it a go.