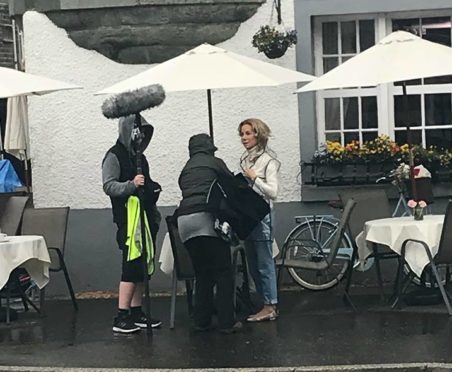 Hollywood blockbusters filmed in Argyll and Bute boosted the region's economy by more than £1 million last year, a report has revealed.
Jurassic World: Fallen Kingdom and romantic comedy Love Me To Death helped shine the spotlight on the area as a desirable location for film crews from around the world.
Jurassic World was filmed at Arrochar and Glen Mallan Jetty at Loch Long while Love Me To Death created a stir in Lochgilphead when cast and crew arrived to film at various locations around the town.
And an arrangement could be close which would net the area £1,000 per day to film one of its most prominent assets.
More than 40 productions have been shot in the area since the trial of a charging schedule, known as "Film in Argyll and Bute", began in August 2018.
Of those, 11 have entered into a film location agreement with the council, bringing in a total of £7,805 in commercial and statutory fees.
The council's executive director with responsibility for economic growth, Pippa Milne, revealed that the overall value of the filming was estimated to be £1,088,500  last year.
The authority's policy and resources committee will discuss the possibility of a permanent arrangement for the filming charges at its meeting today.
The details of what productions have been shot in the area, and any others in the future, have been kept confidential where possible, as has the location of the potential money-spinning production.
Ms Milne's report said: "In 2018 the value of filming in Argyll to date is estimated to be £1,088,500 as a consequence of the 40 productions known to have been filmed in the area.
"It should be noted that the council are yet to enter into a formal agreement with a large production company which could potentially raise an income of £1,000 per day in commercial fees for the use of one of the council's assets.
"Economic development will continue to promote the council's assets as potential locations to forthcoming inquires where appropriate.
"However, the income generated by filming is entirely industry led and therefore cannot be accurately projected and figures are expected to vary annually."
She added: "The purpose of the council providing a service to the screen industry is to ensure that we continue to attract inward investment into Argyll and Bute and take advantage of any economic opportunities that may arise as a result of a production filming in the area."