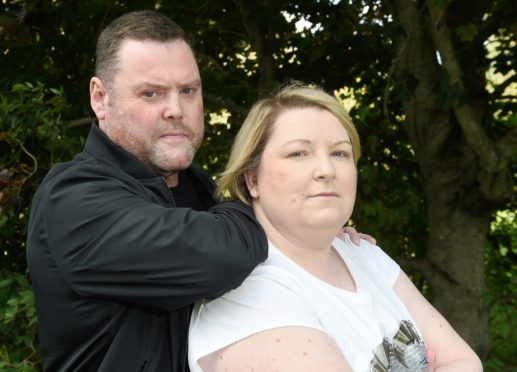 A couple who put off their honeymoon for three months have been left devastated after their dream trip was left in ruins.
Kenny and Amy MacLennan had been due to travel to Elounda in Crete today for their much-anticipated honeymoon.
The couple, who tied the knot at the grounds of Ross County in June, decided to wait for the trip to give themselves something to "look forward to" after the celebrations.
The football-mad couple booked the holiday at Thomas Cook in Inverness 11 months before their special day, and had been due to fly from Glasgow.
Around 2,400 passengers are estimated to have been affected by the cancellation of Thomas Cook flights at Glasgow Airport after the tour operator collapsed.
The last of the firm's flights to arrive in the city landed at 5.50am from Orlando in Florida, with seven inbound and seven outbound services grounded on Monday.
Thomas Cook ceased trading in the early hours of Monday morning after failing to secure a last-ditch rescue deal.
An estimated 150,000 tourists are being brought back to the UK by the Civil Aviation Authority (CAA) in a flight programme costing £100 million.
Mrs MacLennan said: "We were due initially to fly Friday just past but they stopped doing the Friday flight and asked us to change to a Tuesday, so had this been then we would have been stuck.
"We feel quite fortunate that we are at least at home in our own surroundings and not stranded like others have been.
"We even had our Ross County beach towels all ready to go."
The Conon Bridge couple resigned themselves to the fact their holiday was not going to go ahead after tracking the woes of Thomas Cook as events unfolded late last week.
Mr MacLennan added: "We have effectively been planning this for about two years so for it to end up like this is very disappointing.
"Our main thoughts are really with the people who are losing their jobs though. We can always reschedule but there are people in darker places.
"At the moment we are not planning anything to replace it. We might go away for a few days somewhere local, but possibly early next year we will organise a trip elsewhere.
"We don't want it to be a usual holiday destination as it's our honeymoon, so we will wait until we have our money back for somewhere a bit more special."
He said his thoughts were with the staff in the Inverness branch of the travel firm, who had always been "very good" to them when booking past trips to Majorca and New York.
"We are obviously severely disappointed with it being our honeymoon but we have got to look at the bigger picture in the effect it will have on the economy," he said.
"We are a bit disappointed in Thomas Cook in that they knew they were in this financial difficulty and were still taking bookings up until last week. They were obviously banking on a rescue plan but it hasn't helped us at all."
Meanwhile another "devastated" couple have managed to salvage a trip away after finding themselves in a similar situation.
Jodie and Ryan McConachie were married at Carrbridge Hotel in March and saved their honeymoon until October to have something to get them through the "post-wedding blues".
Early next month, the Grantown pair were to fly to Dominican Republic from Manchester, and have already bought connecting flights from Inverness.
They are now faced with the prospect of losing hundreds on the flights to Manchester as they will not be protected by the same insurance as the package holiday from Thomas Cook.
Mrs McConachie, 29, said: "It is absolutely devastating as we were meant to fly in just two weeks.
"I know we will get our money back but not for two months or maybe even longer.
"When the worrying news came out last week I called Thomas Cook and was told they were going to strike a deal so there would be nothing to worry about.
"We have had nothing from them. We only know our holiday has been cancelled because we saw it on TV."
But her friends have stepped in to potentially save the day – with hopes the newly-weds will still be able to jet off.
A family friend is offering them a stay at their home in Tenerife as something of a consolation.
"We're so grateful but it's not the dream honeymoon we had planned," Mrs McConachie added.
"It is such a shame after the wedding went without a hitch – it was the best day ever."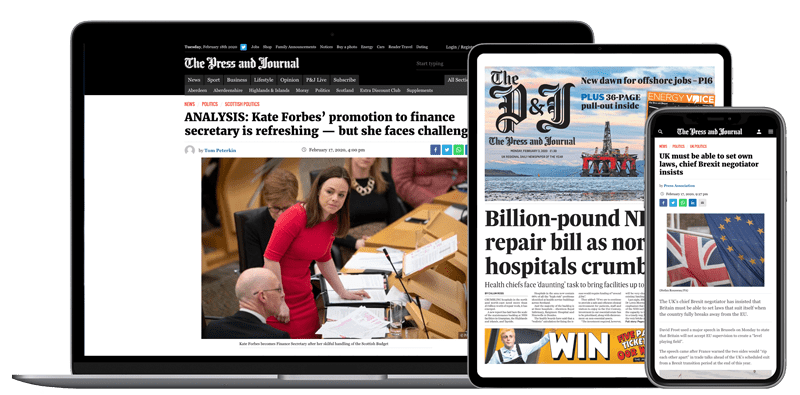 Help support quality local journalism … become a digital subscriber to The Press and Journal
For as little as £5.99 a month you can access all of our content, including Premium articles.
Subscribe