The brave actions of a 10-year-old boy who scrambled down a steep ravine to reach his injured mother after she plunged 330 feet at an iconic Highland mountain were praised yesterday.
Andy Ravenhill, the Oban Mountain Rescue Team Leader, said the youngster deserved a medal for his heroic actions on 3,694ft high Ben Cruachan in Argyll.
The family were on holiday from London when crisis hit on Monday night.
Emergency services were alerted just before 8pm after the mother fell down the ravine and suffered injuries to her head, back and leg.
Her brave boy managed to get to her and use her phone to call emergency services, all the while keeping her calm and conscious.
She is now described as being in a "comfortable" condition in hospital in Glasgow.
Mr Ravenhill said: "[This is] a brave lad who should get an award for his actions. Just getting to his mum was hard – then looking after his mother in an extreme situation, talking to the police and keeping calm, he was amazing."
The mother, father and three young children aged five, nine and 10 had walked up Ben Cruachan on a very pleasant day. But on the way down they took a wrong turn and ended up on some very steep ground.
Mr Ravenhill said: "Mum fell into a ravine about 100m (330ft). Eventually the oldest boy managed to get down to his mother and use her mobile phone to call for help.
"Whilst we were mobilising he managed to talk to the police giving a location description. A local police unit was dispatched to try and locate them. It was dark by this point and luckily the family were well prepared and had a torch.
"Meanwhile the lad was talking to his mum reassuring her that help was on the way and keeping her conscious.
"It took our hasty party about 30 minutes to get to the scene up a very steep hillside and to set up a basic safety system and to start to treat the casualty all the while the lad was talking to his mum."
Oban Mountain Rescue Team went up the hill while the rescue helicopter from Prestwick went to the scene.
Mr Ravenhill continued: "The lady was very lucky she stopped where she did as there was a large drop awaited below.
"After her injuries were treated the best we could in the situation was ready to winch. All the while the lad was with his mum talking to her.
"Rescue 199 winched the casualty at about 11pm and whisked her off to Glasgow to hospital.
"This was a superb effort by all the Oban MRT team members and Rescue 199 in dealing with a technical rescue on steep ground in the dark.
"It was challenging to access, difficult medically and a challenging lift for the helicopter. The result is that mum is doing well in Glasgow."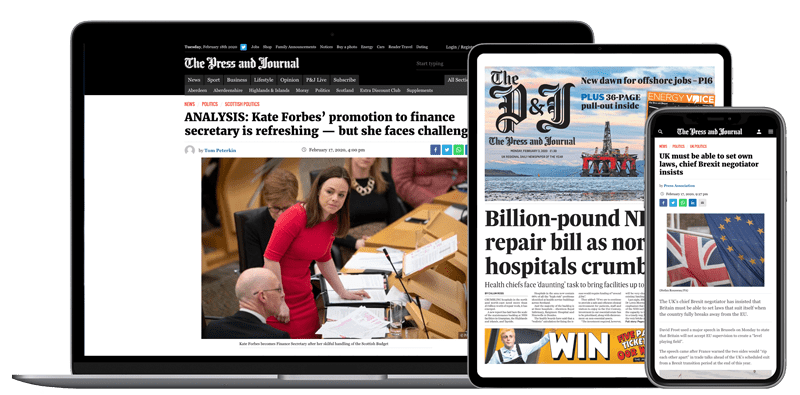 Help support quality local journalism … become a digital subscriber to The Press and Journal
For as little as £5.99 a month you can access all of our content, including Premium articles.
Subscribe