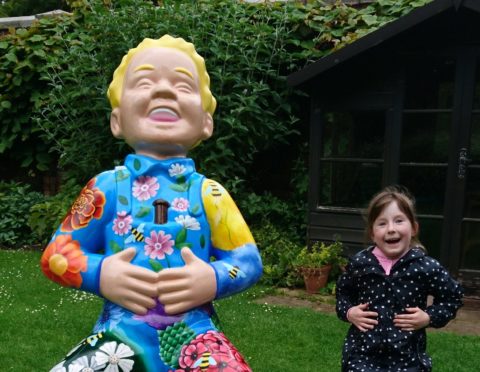 A Caithness youngster is battling a rare form of cancer – which was discovered when she began snoring "horrendously".
Imogen Gunn was diagnosed with rhabdomyosarcoma at the end of May.
Her parents Valerie and Sandy took the eight-year-old to the doctor after her uvula, at the back of her throat, began swelling and became ulcerated.
Baffled doctors in Wick referred her to Raigmore Hospital in Inverness, where she operated on within hours.
A cancerous growth was removed from her soft palate, and she was sent first to Aberdeen and then Manchester for chemotherapy.
Mrs Gunn, 40, said: "She had started snoring horrendously.
"We initially thought it was something to do with her nose but then we noticed swelling around her uvula.
"It grew and became ulcerated in a matter of weeks and we ended up taking her to A&E in Wick.
"The doctors were baffled by her condition and referred her to Raigmore. We took her in on the morning and they operated on her in the afternoon."
Imogen had her last chemo session at The Christie in Manchester, the biggest cancer centre in Europe, on Thursday and is now back in Aberdeen for her last scheduled programme of hospital treatment.
While her parents have been at her side, her three-year-old sister Freya has been looked after by Mrs Gunn's mother.
Meanwhile other members of the family and friends have rallied round to raise money to cover the mounting cost of travel and accommodation.
The support continued at the weekend, when exercise fanatics Jamie Mackinnon and Michael Robertson completed a 12-hour marathon on a rowing machine.
Now Mr and Mrs Gunn are looking forward to getting Imogen home for Christmas at their home in Banniskirk, near Halkirk.
Mrs Gunn said: "It's been really tough for Imogen as she hasn't been home since June though she has been keeping in touch with her friends through FaceTime.
"She's coped exceptionally well. She's taken everything which has been thrown at her in her stride –  she's been an absolute superstar.
"If everything goes well, we're hoping she will be back home with us for Christmas."
She and her husband thanked those who have supported them through Imogen's treatment, which will continue in the new year with a six-month programme of maintenance radiotherapy from home.
The charity rowing challenge by family friend Mr Mackinnon – a lifeguard at Thurso leisure centre who was teaching Imogen to swim – and Mr Robertson began at 6am.
Mr Mackinnon said: "Christmas is coming up and Imogen's mum and dad have had to miss work and spend a fortune travelling and in accommodation so we thought the least we could do to raise a wee bit of money for them."