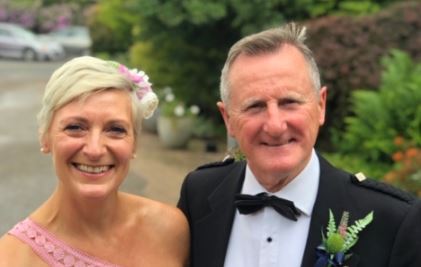 The widow of a former footballer and fire fighter from Inverness who died of sepsis while on holiday in Tenerife has paid a touching tribute to him.
Frankie Watt, 62, an ex-Highland League Inverness Caley player and retired fire officer, mistook the symptoms of an unknown infection for standard holiday stomach problems.
But within five hours of an ambulance being called he died in hospital on November 19.
His widow Lorraine, 51, who was raised in Inverness, has been left devastated by her loss.
The couple enjoyed many a happy holiday together.
Mrs Watt said: "My family have been wonderful. He absolutely loved fishing and most recently he was a member of the Peacock fishing club on the River Wye in Derbyshire.
"That was his passion, every single minute we weren't away he went fishing."
She added: "This year we travelled Italy in our camper van for five weeks. Last year we took five months and did Thailand, Indonesia, Malaysia and Australia. We travelled whenever we could and made the most out of life.
"I met him in 1989. We left Inverness in 1992 and he went to Grampian fire service. We left when he went to work for the fire service college at Moreton-in-Marsh in the Cotswolds in 1996. He was deputy assistant chief fire officer.
"We got married down there in 1999 in Chesterfield, Derbyshire. That is where we stayed until now.
"He was well liked by everyone who met him. He was always helping my friends out."
He also leaves a son Owen, 28, from Nairn, and older daughter from an earlier marriage, Amy Martin.
Amy has two children. Hollie, six, and son Dylan, 11, who is a goalkeeper with Caley Thistle under-11s.
The former striker was involved in a famous league and cup double triumph in 1977.
Dr Watt grew up in Torvean Avenue in Dalneigh and attended Inverness High School. He latterly lived in Chesterfield where he ran a business consultancy. He had recently earned a doctorate from the University of London.
He became suddenly ill during a three-and-a-half week stay at the Golf Del Sur resort in San Miguel.
Brother-in-law Ross Nixon, 46, a fire brigade station manager from Lochardil, said: "Exactly because he was in such good condition, the symptoms weren't apparent. We're not sure how he got the infection.
"The symptoms were not unlike what you might expect from holidaying abroad, including mild sickness and diarrhoea.
"He was complaining of sore joints, but put that down to playing walking football over there."
Dr Watt's parents, the late Nancy and Frank, were originally from Merkinch. He is survived by brother Mike.
His body is yet to be repatriated and a date for his funeral in Inverness is still to be set.
What is sepsis?
Sepsis is a life-threatening condition caused by the body's response to an infection.
The body normally releases chemicals into the bloodstream to fight an infection. Sepsis occurs when the body's response to these chemicals is out of balance, triggering changes that can damage multiple organ systems.
Symptoms include fever and chills, very low body temperature, urinating less than normal, rapid pulse, rapid breathing, nausea and vomiting and diarrhea.
Many types of microbes can cause sepsis, including bacteria, fungi, and viruses. Bacteria are the most common cause. In many cases, doctors cannot identify the source of infection. Severe cases of sepsis often result from a body-wide infection that spreads through the bloodstream.
Sepsis is treated with hospitalisation, intravenous antibiotics, and therapy to support any organ dysfunction.