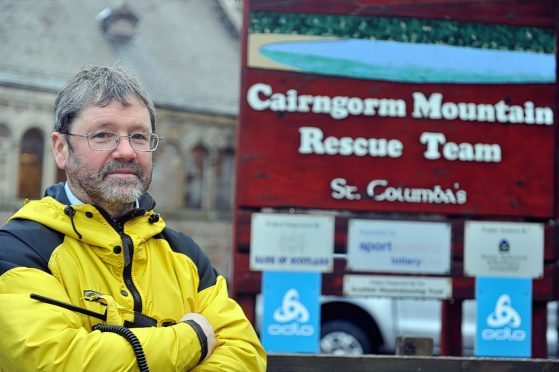 Mountain rescuers have blasted a hillwalker who sparked a major drama on the hills – but was later found sleeping in a bothy after a gruelling search in atrocious storm force conditions.
The man, aged in his 20s and from Edinburgh, raised the alarm on Monday evening, reporting he had lost his companions in the Cairngorms and had injured his leg.
An operation, which lasted 12 hours and involved 16 members from Cairngorm and Tayside mountain rescue teams, was launched as the worst of Storm Brendan hit the north.
But they later found him fast asleep and warm in a remote bothy alongside his friends.
In a hard-hitting social media post, Cairngorm Mountain Rescue Team stated: "We rarely criticise but this was total abuse of our resources.
"He was found in the bothy with his mates in their sleeping bags. We walked 26k in very poor weather to find him. He said he had a sore tendon! Oh well!"
Teams had battled 60mph winds, sleet, snow and rain in the teeth of the storm to come to his aid.
The man was found with his two friends wrapped up in McCooks Bothy on the Ben Alder Estate.
It sits on the shores of Loch Ericht, miles from the nearest road, and is famously haunted.
Cairngorm team leader Willie Anderson said yesterday: "I really hope they were haunted during the night. To say we were not happy would be an understatement.
"We were called out to assist an 'injured' walker on path between Ben Alder Lodge and Ben Alder Cottage around 4pm on Monday.
"No coastguard search and rescue helicopter support was available due to the storm conditions.
"The guy was with a party of three but had somehow got separated in the conditions.
"He called 999 on his mobile phone and gave a grid reference. He was soaked and finding the conditions tough and said he had injured his leg.
"But when we got to the location he was not there. We were walking into the teeth of the storm in darkness with winds gusting 60mph, and with sleet, snow and rain.
"It was horrendous and really dangerously wet underfoot.
"Eventually we found them wrapped up in their sleeping bags in the bothy. They were left in no doubt about our feelings.
"Who knows why they were out in those conditions in the first place? You do not go out in those conditions unless you have resilience.
"His leg injury turned out to be a sore tendon. I think he just got tired and panicked.
"We said why didn't you call to tell us that he was okay and had made it to the bothy?
"We really didn't get a satisfactory answer."
Tayside MRT provided vehicles to help with the rescue effort.
"It was all very avoidable," added Mr Anderson. "When he decided to carry on walking he should have called 999 to cancel the call.
"People should plan ahead, particularly in the short days and bad weather."