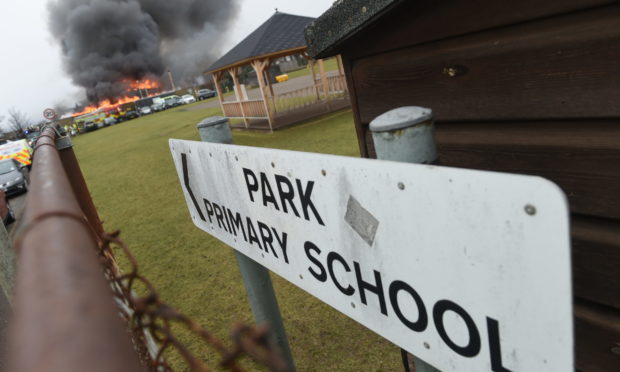 More than 100 "old" black Fujistu laptops are now being "quickly" replaced at schools throughout the Highlands in light of the devastating blaze at an Invergordon primary.
The fire at Park Primary is suspected to have been caused by a laptop, and Highland Council immediately ordered staff not to use the particular model.
Education chairman John Finlayson said laptops were now an essential tool of modern teaching and yesterday said he was delighted officials were quickly trying to resolve problems being encountered by staff without them.
While a programme was already underway to replace IT equipment in schools, the fire has speeded up the process for laptops.
Highland Council yesterday confirmed 120 people have been identified who still have a Fujitsu laptop in question that needed to be "refreshed".
A spokeswoman said: "They should all be contacted soon by ICT Services or Wipro to arrange for refresh.
"A number of changes are being made on an interim basis to allow schools to operate until the refresh is complete. Detail of those changes will be sent out to primary head teachers as soon as possible.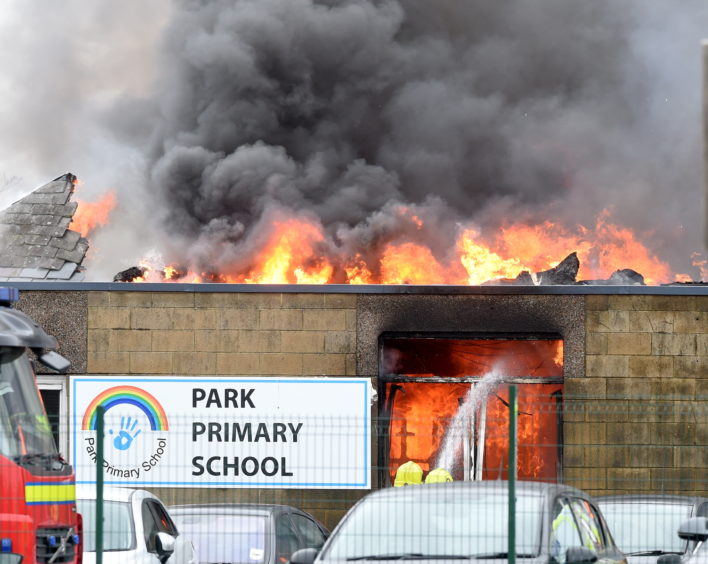 "Secondary school headteachers are being contacted individually to identify critical areas where extra support is needed.
"All teams are working hard to mitigate the impact."
Mr Finlayson said: "In light of the terrible incident at Park Primary I am delighted that the council have acted so quickly in so many areas to support children, families and teachers in schools who have not yet had their ICT refresh.
"I would hope that the pace of the refresh in  our schools will speed up as the importance of having new, up-to-date and safe ICT equipment should not be underestimated in terms of  supporting both administration and learning and teaching in 21th century schools."
Following the blaze, a council spokeswoman said: "We are awaiting the outcome of Scottish Fire and Rescue Service's investigation, but we understand it might have originated from an old laptop."
All pupils and staff were safely evacuated from Park Primary when the fire broke out on Monday, at around 10am.
VIDEO: Highland Council working on long-term plans for primary pupils in Invergordon
Council chiefs confirmed at a meeting with parents that the main building of the school was totally destroy and the whole building will be demolished.
All P1-7 pupils will be taught from today at Invergordon Academy, while nursery children will be accommodated at South Lodge.
The arrangements are in place until Easter while a "longer-term plan" is established.
Cash payments of £100 per child are being made to parents to help with lost property such as coats, bags and shoes.
Fire chief commends crews
A fire chief has commended his crews in battling a "large and challenging" blaze at Park Primary in Invergordon as he described in detail the events which had faced more than 50 firefighters.
Area Commander Rab Middlemiss, the local senior officer for Highland, said: "We were alerted at 10am on Monday to reports of a large fire within Park Primary School.
"Operations control mobilised a total of nine fire appliances to the scene, with the first two arriving within 13 minutes of firefighters being alerted.
"Crews worked around and inside the building wearing breathing apparatus to carry out aggressive firefighting and prevent fire spread wherever possible.
"When it became apparent that the fire could not be contained, further appliances were requested – including an aerial ladder platform from Inverness.
"This appliance was requested as of 10.50am and arrived at the scene shortly before 11.20am.
"The school was fully and safely evacuated by staff and firefighters, and pupils were moved to another nearby school.
"Firefighters extinguished what was a large and challenging fire as of 4.25pm on Monday. There were no casualties."
He added: "The wider community can rest assured that we will continue to respond to every emergency with the correct resources and help to protect the people of Scotland.
"I would like to take this opportunity to recognise the work of our crews and emergency service colleagues and local authority partners in helping to bring this incident to a safe conclusion.
"The continued support from the community has also been most welcomed and we must thank them for their patience."