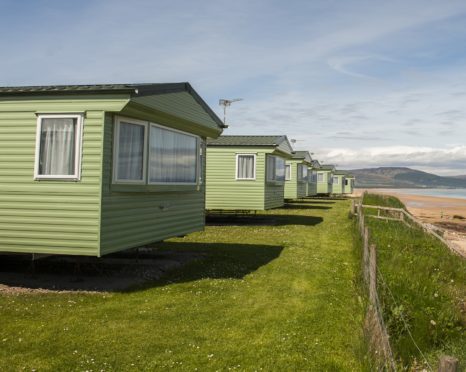 The closure of a Sutherland holiday park has been welcomed by local residents after it initially opened to visitors at the weekend.
Grannie's Heilan' Hame, near Embo, closed its doors yesterday after holidaymakers began heading north for the Easter break.
The park – operated by Parkdean Resorts – was open for business over the weekend offering self-catering accommodation but no communal facilities.
However, following backlash from Embo residents, the holiday operator have now taken the decision to cease operations, delaying the launch of the holiday season.
Steve Richards, Chief Executive Officer, said: "Parkdean Resorts has 67 parks across the UK and our company plays a big role in local communities, whether it be through investment, tourism or employment. As such, we have been in conversation with community leaders, customers and our people, and have decided to delay the launch of the season. We are very sorry to the many holiday makers who were hoping to spend their Easter break with us, but I hope they understand why."
All Parkdean staff will be paid their 100% salary during the course of the closure with officials hopeful to reopen sites from May 1.
He added: "As Parkdean Resorts was gearing up for the Easter holidays, we have a significant amount of perishable food on park which will now be donated to local community food banks."
The announcement comes after locals condemned the park operators for putting its vulnerable and elderly residents at risk.
Irene Bews is in isolation after returning from working in Spain.
She sent an email to General Manager of Parkdean Resorts Paul Vant to raise her concerns, urging the company to act now.
"We have got a very elderly population in Embo," Mrs Bews said.
"My husband and the rest of the community have been so busy setting up a resilience group to try and help people who are stuck at home and as they were doing this, someone said you are not going to believe this but Parkdean have said they are encouraging people to come to the campsite.
"As you are trying to do something on one side to help people you turn round and there are cars arriving with people saying you are not stopping us having out holidays."
The 57-year-old added: "Loads of small camp sites have closed, like Sango Sands in Durness, Portmahomack and Gairloch because they are all wanting to protect their communities.
"In my mind, they are socially irresponsible doing something like this. It's putting people at risk in the village but also people at risk on the campsite."
Following the U-turn decision, Mrs Bews spoke of her delight.
She said: "I am absolutely delighted. They should have done it sooner.
"This will really be a huge sense of relief to the village and also from the point of view of resources here as well and the shops. There is not a lot for everybody but as soon as you bring in a whole lot of other people into the area it will put pressure on everything."