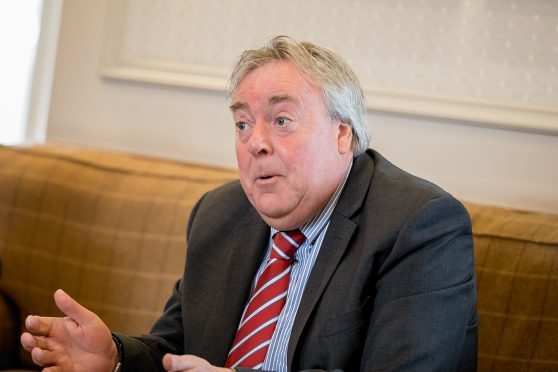 Fresh concerns have been raised for the future of Scottish hotels after new figures revealed that only a third of adults feel confident about holidaying at home this summer.
And due to persisting fears about the spread of coronavirus, less than half of people feel they will embark on a "staycation" later on in the year.
The latest consumer weekly tracker for July 20-24 carried out for VisitScotland and its counterparts in England and Wales shows just 23% of the UK population feel "the worst has passed" in relation to the pandemic, and 37% fear "the worst is still to come".
It also revealed that fewer than one in ten people do not think life will return to "something close to normal" by September and just 27% are expecting normality by December.
The results come as more tourism operations open up, but there is a mixed picture among different areas and sectors of the industry.
Visitors are flocking to campsites and self-catering accommodation, but city centre hotels are struggling in some areas.
VisitScotland hopes that, as the season progresses, consumer confidence will grow and city breaks will become more popular.
Chief executive Malcolm Roughead said: "While we are pleased that many businesses were able to reopen, we know that the industry will need financial support for some time to come to help it recover.
"We have been buoyed by positive stories of visitors enjoying outdoor attractions, restaurants and some accommodation providers seeing an increase in bookings for the coming months but we are conscious that there are still businesses struggling."
Marc Crothall, chief executive of the Scottish Tourism Alliance, said the self-catering sector is performing "exceptionally well", but the hotel sector is "really concerning" as UK visitors have not yet filled the gap left by a lack of international tourists.
Mr Crothall said occupancy figures for some city centre hotels are expected to be around 12% in August and 25% in September.
He said: "There is an urgent need for significant support of varying types to mitigate costs and enable these businesses to stay alive for next year."
Alistair Danter, project manager for SkyeConnect, who runs two self-catering units at Edinbane, said capacity is around 60-65% on the island.
He added: "Our own self-catering guests are staying for much longer, almost every booking is five nights or more. It feels like the old days."
But Clare Winskil, who owns Coruisk House, a restaurant with rooms in Elgol on Skye, said the rooms are operating at only 10% occupancy for July, expecting to rise to 30%-40% in August, compared to 80%-95% last year.
She said: "Turnover at the moment is looking as though it will only be 25%-30% of last year's. Profit margins are slashed by increased costs of operating."
Hotel business is picking up, albeit with reduced rates in some cases. Rooms are available for £45 in Inverness and £50 in Aberdeen.
Occupancy rates at the Kingsmills Hotel in Inverness have doubled to 61% in the last two weeks, but prices are still below normal.
Owner Tony Story said: "It's very encouraging. It's definitely coming, but prices are very, very competitive."
Willie Cameron, a director of the Cobbs Group that owns the Drumnadrochit Hotel, which is fully booked, said: "The people on staycations are in pockets. It's nothing like what business should be at this time, so the staycation boom has not happened."
However, Tanja Lister, from the Kylesku Hotel in Sutherland, said it is fully booked until the end of September and October is currently running at 90%.
Anita Hennessey, who runs the Myrtle Bank Hotel in Gairloch, is turning away 20-30 people a day.
She said: "We are full or nearly full every night. We were booked solid all the way through summer and lost thousands of pounds, but at least we're doing well at the moment."
Laurie Piper, chief executive, Visit Moray Speyside, said bookings are strengthening across the board with occupancy "encouragingly high" in the self-catering sector.
"The staycation message is definitely getting through."