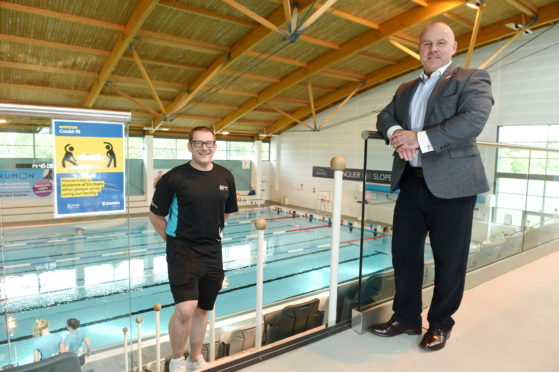 Fitness fans in the Highland Capital won't have long to wait for their first workout in months when gyms reopen on Monday.
A handful of enthusiasts will gather outside Inverness Leisure Centre late this evening and be welcomed in for a session at the stroke of midnight.
It comes as Covid-19 lockdown restrictions on the use of gyms are being relaxed across Scotland.
High Life Highland (HLH) is marking the reopening of its centres across the region with the special treat for some customers who have pre-booked entry at the stroke of 12am.
The lucky few will get to take part in fitness classes, use gym equipment and  enjoy swimming sessions – all of which will be socially distanced.
Along with all other HLH locations across the region, Inverness Leisure closed on March 20 because of the coronavirus pandemic.
Douglas Wilby, director of sport and leisure for HLH – the charitable subsidiary of Highland Council which operates its leisure centres and swimming pools – last night hailed the "significant" milestone.
He said: "Our customers and staff have waited a very long time to be able to enjoy using our fitness suites, swimming pool and fitness classes again.
"Opening as soon as we can just after midnight is another significant step in our bounceback campaign and will offer customers the earliest opportunity to start enjoying Inverness Leisure again, while being in full compliance with the Scottish Government's guidance."
Mr Wilby added: "Our online booking system went live on Wednesday and the response has been extremely positive."
HLH is leading the way in Scotland as it believed to be the first leisure trust to open its doors on the First Minister's revised date of August 31.
Many private leisure operators are maintaining a mid-September opening, as had originally been suggested in previous Scottish Government statements.
HLH chief executive Steve Walsh said: "I am absolutely blown away that we have been able to accelerate our plans for reopening in line with the earlier opening date announced by the First Minister last week.
"Our leisure team's decision to prepare early has paid off on this occasion and allowed us to implement phase one of our reopening plans and provide what we think will be great news for customers in these unusual times.
"We are working hard with our partners to agree access to our other facilities that are attached to schools as part of phase two of our plan.
"With ongoing discussions progressing very positively, indications I am receiving from colleagues in Highland Council are that we will have some good news for customers very soon."
HLH chairman Ian Ross said: "Since the start of the pandemic in March, the phrase, 'we are all in this together' may have become somewhat overused.
"However, the arrangements that HLH has managed to reach in discussion with colleagues in Highland Council demonstrates it is every bit as accurate today as it was six months ago.
"The board and I fully appreciate and support the council's decision to limit non-school staff entering schools and prioritising the safety of pupils as they returned to full-time education.
"However, I am extremely pleased that we have agreement whereby HLH will now start discussions with individual headteachers that will enable our staff to access the school estate and commence the process of preparing the community sites which had been temporarily 'reserved' for educational purposes.
"On this basis, I understand our staff will be granted access starting next week, and we are therefore looking forward to being able to have all HLH leisure, swimming and fitness sites opening over the first few of weeks of September."
The local authority's education chairman, John Finlayson, said: "The council's primary focus for the school estate was to get pupils safely back in the buildings and returning to full-time education.
"However, the council was also fully aware of the importance around communities gaining access to local leisure and recreation facilities in order to support individual physical and mental health and wellbeing.
"I am pleased that Highland Council has been able to work with colleagues in High Life Highland in order to enable the necessary arrangements to be made giving its staff access to schools."
Mr Ross added:  "We are aware that such a long period of absence away from indoor physical activity has been a challenge for some, including many of the most vulnerable in our communities."
Inverness Bannatyne Health Club at Inverness Retail Park is also scheduled to reopen on Monday.
Lochalsh Leisure Centre has delayed opening until September 14.
The first minister told Holyrood last week that she was bringing forward the reopening of the facilities.
She said it meant people aged 12 and over could take part in non-contact activity in places such as dance and gymnastics studios as well.
Scottish Swimming said it had shared guidance on safely reopening with pool operators but warned not all of them were likely to reopen on August 31.
Anytime Fitness, which runs gyms across the UK including in Elgin, said it was delighted but would only allow its Scottish gyms to reopen when they were "fully compliant" with government guidelines. The Moray gym will reopen on September 4.