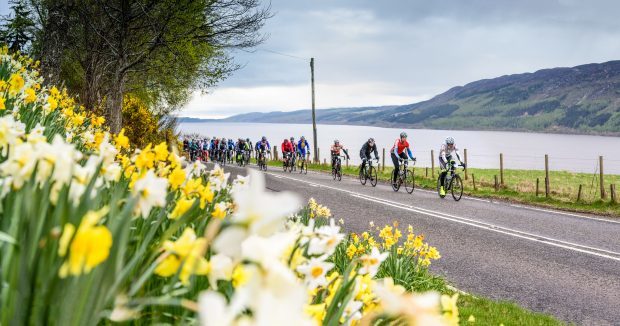 Concerns have been raised about delays on the busy A82 Inverness to Fort William trunk road at the weekend due to a charity cycling event around Loch Ness involving more than 4,200 bikes.
And a Highland councillor has suggested it should be held on the A9 Perth to Inverness road instead – as he claims it would be better suited for an event of this size.
Sections of the A82 and the B862 Fort Augustus to Inverness road are to be closed at various times between 5.35am and 12.40pm on Sunday for the cyclists taking part in Etape Loch Ness to undertake the 66-mile round trip.
Fort William councillor Brian Murphy, who is also chairman of the A82 Partnership campaign group, said: "These events, which seem to be growing in number, put more pressure on an already struggling lifeline route.
"Why don't they try the A9 instead?
"It's much wider, with much better sight lines and, I would say, safer than the A82 for both the cyclists involved and motorists."
Stewart MacLean, of the A82 Partnership, described the event as the "dreaded around Loch Ness cycle race", adding that it would cause further inconvenience to A82 road users.
He said: "It's difficult to work out the impact of sectional road closures on through traffic, but if you can avoid travelling between Inverness and Fort Augustus on Sunday morning please do so."
The first wave of riders is due to set off from Bught Park in the Highland capital at 6.15am.
The fastest riders home are expected to cross the finishing line at Eden Court from 9am onwards, with the majority of riders arriving before 1pm.
Event director Malcolm Sutherland said they communicated with businesses and local communities around the loch, as well as with road authorities and emergency services, during the planning for Etape Loch Ness.
He said: "Every effort has been made to ensure road closures are kept to a minimum to reduce the impact on local communities and people travelling on Sunday morning.
"The opportunity to cycle such an iconic route on closed roads is what attracts many cyclists to participate in Etape Loch Ness.
"Having spoken to communities along the route, it is clear that there is a great deal of local support for Etape Loch Ness."
Road closures on Sunday morning
Inverness (Bught Drive/A82) to Drumnadrochit (A831 Junction) – 5.35am-8.05am
A82 Drumnadrochit (A831 Junction) to Urquhart Castle – 6.35am- 8.15am
A82 Urquhart Castle to Invermoriston (Dalcataig Road Junction) – 6.20am-9.05am
Invermoriston (Dalcataig Road Junction) to Fort Augustus (A82/A862 Junction) – 7am-9.35am
Fort Augustus (A82/A862 Junction) to B862/B852 Junction – 7.10am-10.55am
B862/B852 Junction to Lower Foyers Junction – 7.45am-11.05am
Lower Foyers Junction to Dores (B852/B862 Junction) – 7.45am-11.55am
Dores (B852/B862 Junction) to Holm Roundabout, Inverness – 8.15am-12.25pm
Holm Roundabout to Eden Court, Inverness – 8.35am-12.40pm (left lane northbound only)