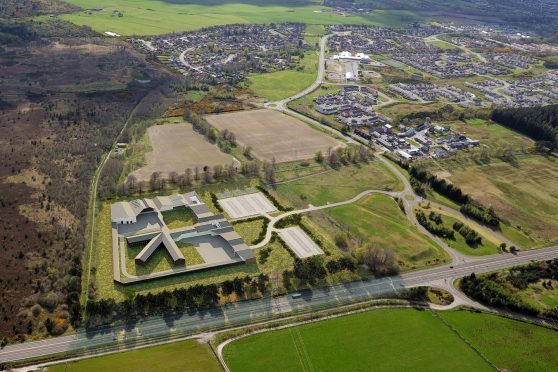 A new £66million jail at Milton of Leys would be one of Scotland's smallest.
The Scottish Prison Service (SPS) has been looking for a site since 2008.
As the current jail serves the Highlands and islands catchment area, the hunt was restricted to Inverness.
It is envisaged that the visits room at "HMP Highland" will cater for up to 10 visits at any time, lasting from 30 minutes to an hour.
HMP Inverness has an average of 15 visits per day.
Responding to security concerns, the SPS said it had an exemplary record, with no escapes from its prisons since the early 1990s.
It said damage to and theft of private property by visitors was not a problem experienced around existing jails.
And it maintained there was no evidence the development of a prison had affected house prices.
Construction work, creating several hundred jobs, would guarantee employment for up to three years.
The existing prison employs 110 people who receive a combined salary of £3.7million.
The facility spends £950,000 a year on goods and services required for its daily operation.
Subject to funding, the SPS anticipates work beginning on site early in 2018 and the prison opening in early 2020.
The existing Porterfield complex in Inverness city centre would be offered for sale on the open market.