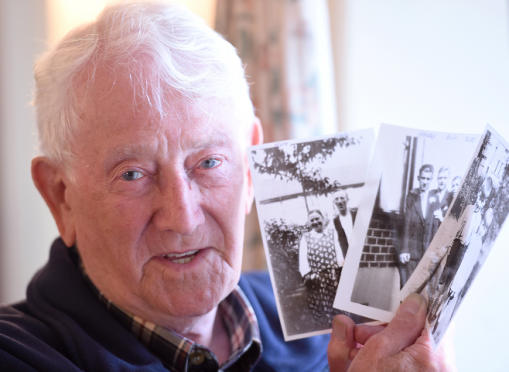 For bride, groom, family and guests, there has always been a nervous wait for photos of the big day.
But one Highland man waited 80 years to see prints of himself at his older brother's wedding.
Dick Carr, 89, of Insh by Aviemore, said he was "gobsmacked" when he received the pictures from his nephew.
Mr Carr is the last remaining of nine siblings and admitted to shedding a tear when he saw his brothers all together in their wedding attire.
The former Royal Navy man grew up in the Dagenham area of England along with his seven brothers and sister, Florence, and he moved north to live in Strathspey with his late wife, Hilda, about 30 years ago.
He said that there were very few other photographs taken of him and his family at the time, particularly given the distractions of war in that part of the country, with his older brothers in work while he was evacuated to Northampton.
Mr Carr explained that his brother Bill died 10 years ago in Essex, and that all of his things were kept by his son, Michael, in the garden shed.
Mr Carr said: "The family eventually got round to going through the old boy's stuff and found the camera and the film, and took some time to get it developed. In this modern technical age they don't tend to use film anymore, but the quality is just gobsmacking".
The pictures show Mr Carr when he was just an eight-year-old boy at his older brother Henry's wedding day, eight decades ago in Dagenham, and as the last surviving sibling he was given copies.
He added: "It was absolutely marvellous to see them and I could hardly recognise myself.
"The thing is that, as I was growing up and because of the war time period, there was lots of disruption. It was not a normal family life and my older brothers were scattered around and not in regular touch. There was quite an age difference between us.
"I can tell you I'll cherish the pictures. Although I can't remember them being taken, they bring back a lifetime of memories for me."