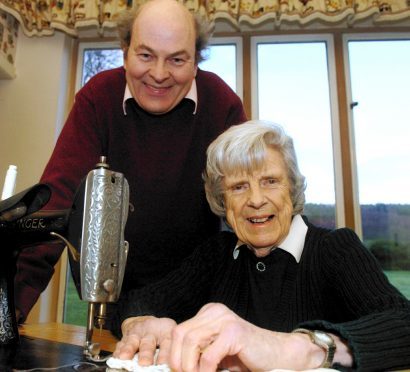 The lady who transformed the lives of new parents worldwide has died.
Today, every mother and father should spare a thought and offer a silent prayer for Valerie Hunter-Gordon, the woman who invented disposable nappies.
Mrs Hunter-Gordon passed on peacefully on Sunday, aged 94, at her home, Ballindoun House in Beauly.
She was inspired when she had her third child in 1948 to come up with something better than the old fashioned towelling nappy.
She said last year: "I just didn't want to wash them. You had to iron them as well. It was awful labour. I was amazed you couldn't buy a disposable version. I went to the US and you couldn't buy them there. It was extraordinary. No-one had thought about it."
At the time Valerie was living in Surrey with her husband Pat, a major in the Royal Engineers. Their third child, Nigel, had been born the year before.
Determined to escape the never ending cycle of the mangle and washing line she got out her Singer sewing machine and made a pair of prototype nappy pants from parachute nylon lined with cotton but they were not an immediate hit.
Said Valerie: "They wouldn't stay on and the cotton wool didn't work".
Undeterred, using Nigel as a model, Mrs Hunter-Gordon – grand-daughter of inventor and engineer Sebastion de Ferranti, known as "Britain's Edison" – soldiered on tweaking her new nappy and soon all the other army mums wanted a pair.
She made 500 pairs in her home selling them for 5 shillings each.
Then a new material, PVC, allowed her to make a strong, waterproofed product – adjustable waterproofed pants, fastened with poppers, with a cord round the waste which could be wiped, washed and bleached with no ironing required. Eventually after more testing on Nigel the pants were made of cellulose wadding with a layer of cotton wool
After a chance meeting between Mrs Hunter-Gordon's father and the owner of a sanitary company, the product went commercial.
And Nigel, resplendent in his Paddi, was the star of the advertising campaign.
Reminiscing last year, aged 67, he said: "Until I was 30, I used to see myself on the side of trucks as I went up and down the M6".
But in the 60's the product went into decline with the arrival of Pampers.
Valerie's husband Pat, CBE, FRSE, MC DL , a soldier and engineer and managing director of AI Welders, died in car accident in 1978. He is buried in Tomnahurich Cemetery, Inverness.