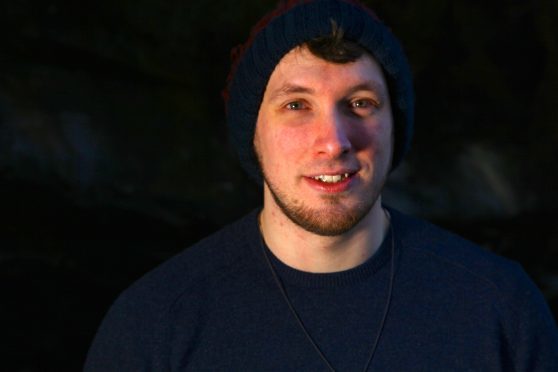 An Inverness man, who has been climbing since he was three has been honoured for his work helping to promote the sport.
Robert Mackenzie has been named the third recipient of the Scottish Youth Award for Excellence in Mountain Culture by the Nevis Landscape Partnership and the Fort William Mountain Festival.
The 25-year-old works as the regional development officer for the west of Scotland with ClimbScotland. And his award celebrates achievement and the spirit of adventure – and means that Mr Mackenzie will serve as youth ambassador in the Fort William Mountain Festival Hall of Fame.
Born and bred in Inverness, Mr Mackenzie has been climbing for 22 years, ever since his first day outdoor climbing at the tender age of three.
At nine, he began entering climbing competitions with great success and his passion has increased in the intervening period.
He moved up the ranks, winning the British Lead climbing Championships four times and placing 15th in the World Youth Championships and eighth in the European Championships, as part of the GB junior climbing team.
When he was 19, Mr Mackenzie moved to Glasgow for university, where he got a job coaching the Glasgow Climbing Youth Squad, and subsequently becoming head coach.
The squad now has 42 young athletes from around Glasgow, two of whom Mr Mackenzie has coached to British team status.
In 2015, he set up the Glasgow Gorillas Climbing Club in a bid to introduce his young climbers to outdoor climbing.
With the help of a group of parents, he has been running outdoor climbing trips every month in the intervening period. Together, they have introduced around 35 kids to traditional and sport climbing and bouldering.
Mr Mackenzie left the position of head coach at Glasgow Climbing Centre last October to take up his new development role at ClimbScotland.
His main role in the position are to increase grassroots participation, develop and support pathways into climbing, encourage better use of indoor climbing facilities and promote and report on ClimbScotland events and competitions.
He is still involved in the coaching at ClimbScotland's national youth academies.
Mike Pescod, chairman of The Highland Mountain Culture Association Ltd, organisers of The Fort William Mountain Festival, said: "We can hardly believe that this is the third year of The Scottish Youth Award for Excellence in Mountain Culture.
"Our previous ambassadors have been outstanding young people and, with Robert Mackenzie, there is no exception to that level of excellence.
"He represents an exemplar in influencing other young people by showing it is possible to achieve high levels of personal and sporting success through his own passion for climbing and Scotland's outdoors."
Mr Mackenzie will be presented with his award in Fort William on Saturday, February 9 at the Fort William Mountain Festival; together with legendary mountaineer Dr Hamish Brown, who has won The Scottish Award for Excellence in Mountain Culture in its 10th anniversary year.