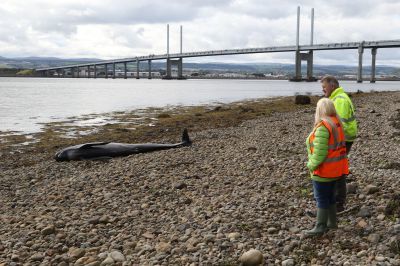 A pilot whale had to be euthanized by a vet yesterday after becoming stranded on a Black Isle shore.
The whale was one of a group of about 30 spotted in the Kessock Channel, off Inverness, in recent days.
The 14ft-long female pilot whale beached near North Kessock overnight and was put to sleep yesterday.
Marine wildlife experts has expressed concerns for the other members of the pod who they feared may also strand.
However, the remaining pod of whales was seen swimming along the Inner Moray Firth out to sea at around 2.30pm yesterday.
The British Divers Marine Life Rescue (BDMLR) said it was monitoring the pod.
"The pilot whale that stranded did so overnight and was put to sleep today," said a BDMLR spokeswoman.
"The others are behaving normally at the moment and we hope that it is a case of the pod sticking near a sick or injured member – and now that it has died they do not follow it in.
"We have plenty of eyes on the water and are keeping a watch on things."
Inverness-based Coastguard crews were also at the scene yesterday, with the service posting: "Coastguard Rescue Officers from Inverness are providing safety cover after one of a pod of Pilot whales sadly died.
"Hopefully the rest will make it out safely. We ask that any boat user in the area stays clear of the pod."
Pilot whales are known to be prone to mass strandings.
Six years ago, 15 pilot whales died in a north Highland sea loch when a pod of 60 became stranded at Durness in Sutherland.
Charlie Phillips, field Officer at Whale and Dolphin Conservation, had been monitoring the pod at the weekend.
Before the stranding, he posted: "They appeared relaxed and were not showing signs of stress, very much the opposite with lots of social behaviour and a bit of feeding on squid too."