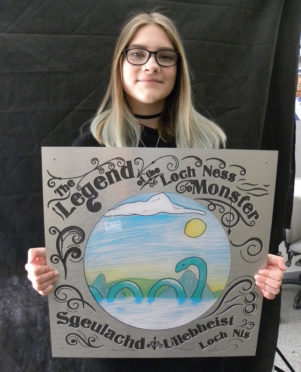 A plaque designed by a north youngster has been installed on the River Ness.
Anna-Evelina Zelanika, from Millburn Academy, produced the winning design last spring, with her fellow classmates and teachers given an exclusive sneak peak of the plaque a few weeks ago.
It is one of seven plaques installed across the city as part of a visitors trail. With a simple swipe of their phone, adults and children alike can learn more about the history – and legends – of Inverness.
Ruth Cleland, who led the project, said: "We had a fantastic response from art pupils across Inverness and Nessie was an overwhelmingly popular theme. I hope this project will inspire children to learn more about local history and legends and also about the potential of digital technology in applications like the one we have made."
A prototype of the artwork was presented to Milburn Academy as demonstrations of the HighlandAR app took place to display the interactive side of the project.
Provost Helen Carmichael said: "The app brings these artworks to life in such an amazing way and I am sure people will love it."
Depute provost Graham Ross added: "This is going to be fantastic for visitors to Inverness and really sets Inverness aside as an innovative digital city."