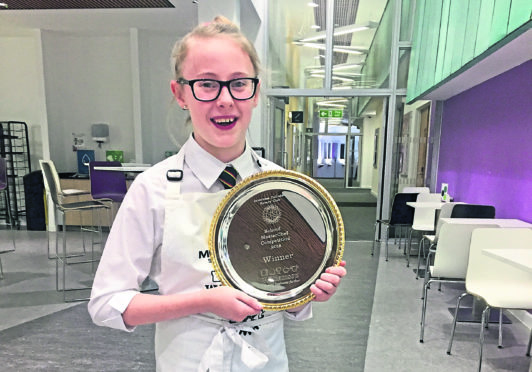 Making the decision to swap home baking for home-cooked meals paid off for Inverness teenager, Emily Megson.
Having created and cooked a three-course mouth watering dinner, the 13-year-old was crowned winner of the local schools Masterchef competition.
Organised by the Rotary Club of Inverness Culloden and sponsored by Williamson Foodservice, Emily was one of four finalists who showcased their culinary skills in front of the judges – Press and Journal columnists, Lady Claire Macdonald from Kinloch Lodge and Michelin star chef Michael Smith from Skye's Loch Bay Restaurant.
Provost of Inverness Helen Carmichael was also in attendance along with an audience of around 50 others including teachers, parents, chefs and rotarians.
After several heats, Emily emerged as the local winner thanks to her award-winning menu which included a starter of autumn sweet potato and butternut squash crumble served with a green leaf salad and balsamic and mustard dressing.
Scottish salmon fillet baked in paper and served on a bed of asparagus and rice with a saffron sauce for mains, and a lime cheesecake with raspberry coulis for pud.
Emily, a second year pupil at Millburn Academy, who lives in Inverness city centre, said: "I used to love baking but recently started cooking other dishes.
"I've been reading a lot of cookery books and taken inspiration from some of these to make my own recipes."
Emily's mum, Louise, said: "It's been great having Emily take part in the competition as she's been practising her dishes on us.
"Her dad, Ian, brother Gordon and sister Ailsa and I have enjoyed eating them."
Both the judges, Michael and Claire, praised the extremely high standard of entries for this year's competition, and Michael added it was encouraging so see that many youngsters recognised there were great opportunities to be hand in the hospitality industry.
Managing director of Williamson Foodservice, Gary Williamson, said: "As a company we speak to chefs on a daily basis who tell us there is significant demand for kitchen staff.
"It is therefore a great time to consider cooking as a career.
"I find it extremely satisfying to see schools embrace the competition and for local chefs to come forward as judges to share their tips with the up and coming talent we saw last night."
The other finalists taking part were Imogen MacDougall representing Culloden Academy and Cora Ditta and Pelesa Hammond, both representing Inverness Royal Academy.
Emily will now go forward to the Scottish finals, with a competition held in Dundee.