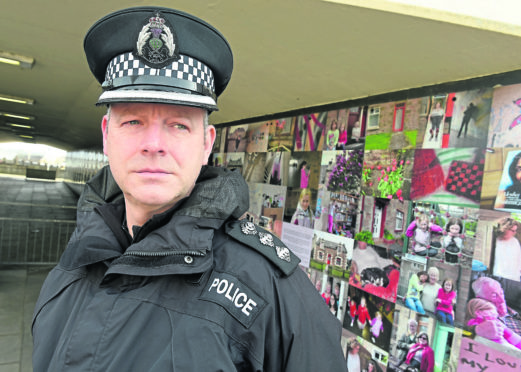 Police have moved to quell alarm about recently-revealed figures showing a substantial hike in shoplifting in Inverness.
Chief Inspector Colin Gough, area commander for Inverness, said that in his view the figures, up by 160 incidents to 629, will now plateau.
Mr Gough said the presence of a dedicated police team based in the Town House and focusing on city centre issues had been key to detecting and catching more offenders.
He also put perspective on fears that difficulties within the benefit system were also behind the increase.
---
>> Keep up to date with the latest news with The P&J newsletter
---
He said: "There may be one or two people stealing for that reason, but what I see on a daily basis is people who are vulnerable through drugs or alcohol  stealing high value meat products, perfumes, electronic goods.
"That's why I'm cautious when people say this is all about Universal Credit, that's not what I'm experiencing, particularly in the city centre."
Mr Gough said up to a year or so ago, there was a lot of 'frustration and angst' in relation to the city centre and lack of police visibility, prompting partnership working to enable him to create the city centre policing team.
He said: "As a result, the relationship has got stronger with the business community, the security industry and the officers on the beat.
"There was probably a lack of appetite with some retailers to phone the police before we put that embedded team in, because maybe the response wasn't as quick as they would have liked.
"So I think now the figures will plateau out, because there was under-reporting under the old model."
Mr Gough added that a pilot scheme is underway to recognise the health issues behind shoplifting.
Offenders are now being given the option to refer themselves to the harm reduction service for help with their dependency issues rather than face a fixed penalty or possible charge.
He said: "We have discretion, we're saying this is an issue for health, so officers are offering this voluntary referral and half a dozen or so people have already taken up the option."