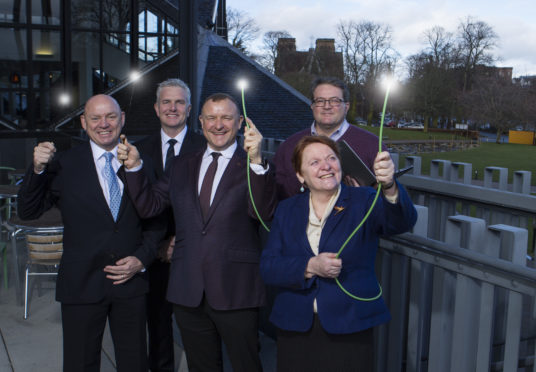 A £9.5m deal to bring reliable broadband to five public sector organisations in four Highland locations has been described as 'transformational.'
Promises of gigabit-speed, future-proof full-fibre broadband for schools, libraries, offices, hospitals, health centres and university campuses accompanied the announcement by Capita, the company delivering the contract under the Scottish Government's Scottish Wide Area Network (Swan) programme.
It will see more than 150 public sector sites across Inverness, Fort William, Thurso and Wick connected to a full fibre network to be delivered by March 2021.
---
>> Keep up to date with the latest news with The P&J newsletter
---
Full fibre provides the infrastructure required to develop new digital services and smart city applications such as smart traffic controls, HD CCTV and remote health and care tools.
The aim is to transform the provision and access of public services, and accelerate investment in the region by future-proofing its digital capabilities.
Highland Council, Highlands and Islands Enterprise (HIE), Scottish Natural Heritage (SNH), NHS Highland, the University of the Highlands and Islands (UHI) and the Department of Digital Culture Media and Sport have collaborated to bring forward the contract.
London-based CityFibre has committed a multi-million-pound private investment to construct the fibre network connecting the sites, which it will design, operate and own.
John Maher, director of Learning and Information Services at UHI, said: "This development will play an important role in the future of our university, offering greater bandwidth to support the work of our staff and students."
Full fibre connectivity will also enhance digital learning for school children by improving the performance of devices such as tablets and computers, and future-proofing their connectivity for further innovations in digital learning.
Highland Council leader Margaret Davidson said: "This is the first step in what will make the Highlands one of the best connected regions in the UK.
"This will ultimately draw millions of pounds of investment to local communities and benefit both businesses and the wider population."
Highland MP Drew Hendry said he hoped the business community also benefit from this infrastructure in the future.
He said: "The potential for Inverness and the wider Highlands really is enormous through improved productivity, inward investment and innovation.
"Instead of following, we will be at the forefront of the digital opportunities and that is certainly cause for celebration."
CityFibre's James McClafferty said: "Better connectivity not only drives efficiency and improves the digital experience of staff and community members, it will also help position these areas for economic growth, investment and innovation."
Stuart Robertson, director of digital at HIE said: "From a general economic development perspective, we'd like to see communications providers take advantage of the new Cityfibre network to offer full fibre services to local homes and businesses too."
For SNH, Mark Robson said: "This exciting partnership is key to digital transformation and will help us work faster and more effectively across the Highlands."