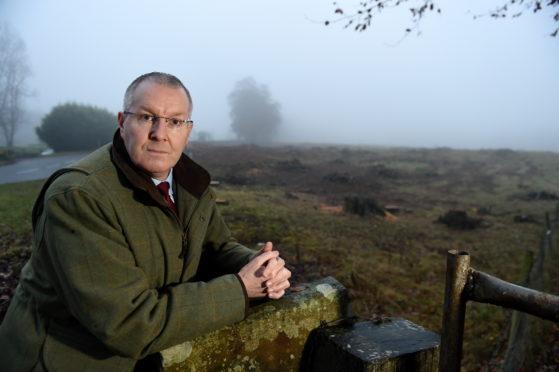 Inverness residents have aired their concerns after dozens of mature trees were felled to make way for a new multi-million pound housing scheme.
More than 50 mature beech and oak trees located in the field at Drumossie Brae are being chopped down by developers to make way for the new junction with the B9006.
These improvements coincide with plans for 90 homes on the area of land south-east of Simpsons Garden Centre.
As work to clear the area continues, constituents have expressed their outrage to local councillor Duncan Macpherson regarding the number of trees they say are being "torn down".
In a social media post published on the Inverness South councillor's Facebook page at the weekend– which has been viewed more than 9,000 times – residents expressed their feelings on the matter.
Anne Butler said: "It's not only the trees we are destroying but the habitats of the many creatures who share our countryside with us."
Mr Macpherson said people were "up in arms" about the level of tree felling in the area.
He said: "It was a shock to me when I realised how many trees were being brought down.
"The reason for the number of trees that have come down is for the widening of the road junction at the bottom and the entrance into the site."
Mr Macpherson acknowledged some of the trees looked like they have "a bit of rotting", but added: "It's always disappointing to see long-standing trees coming down. I wouldn't want there to be any more than necessary having to come down."
The development was approved by councillors in May for DMPM Services Ltd's application in principle for 60 private homes and full application for 30 affordable homes.
Within weeks, ownership of the land changed after the 14-acre development site was sold to current owners Springfield Properties.
Speaking of the works, Springfield North Managing Director, Dave Main, said: "A professional tree surgeon has begun works to remove particular trees at our Drumossie development. A condition of the planning consent to build homes here requires us to carry out works to reposition the Drumossie Brae junction to improve safety. The planning consent includes permission to remove over 50 mature trees to allow the upgrade work to take place.
"Once the tree work is complete and the junction realigned we will begin building the new homes. We are aiming to start selling these homes at the beginning of next year."