Pints were flowing and glasses were clinking as beer gardens across Moray and the Highlands reopened after more than three months of lockdown.
Pubs and restaurants have been shut for 15 weeks across Scotland as a key part of efforts to limit the spread of Covid-19.
Regulars got together for the first time this summer today amid an array of additional safety precautions implemented by businesses.
First Minister Nicola Sturgeon has urged caution – telling people to turn back if they see a crowd forming outside a premises and warning that if it appears like normal "something is wrong".
The Innes Bar in Inverness was forced to turn customers away  as its beer garden quickly filled with laughter and activity, while others extended their opening hours due to the number of reservations.
About 30 people gathered in the beer garden at the Brander Arms in Lossiemouth to enjoy a drink in the sea breeze and sun.
Staff carried drinks and snacks to tables for customers, while an address book for people to leave their contact information and hand sanitiser was positioned next to the front door.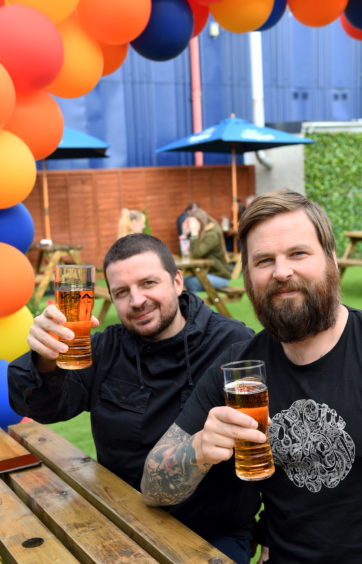 Picnic benches and smaller tables were positioned inside a taped-off area outside the bar where regulars caught up after weeks apart.
Graham Campbell, from Lossiemouth, said: "It's just good to be able to sit in the sun and have a few beers and a chat with friends.
"There's a good regular crowd in here. We've been keeping in contact but it's obviously been more difficult.
"We're all aware Covid is still going about, but we're all being pretty sensible."
Ryan Buchan, from Lossiemouth, said: "It's just good to get out of the house again.
"All I've been doing during the lockdown is staying at home and working in the shop."
The relaxing of lockdown rules has also allowed outdoor cafes to open again for the first time in three months.
Ms Sturgeon warned customers to take adequate distancing and sanitising precautions – explaining people should feel different when visiting premises and urging them to comply with providing contact information.
She said: "If you are not willing to do that you really shouldn't bother going at all.
"If you see a crowd gathering, particularity at a bottle neck point, avoid it.
"These are really risky situations so don't take that risk.
"If you go to a bar or a restaurant outside right now, and it feels totally normal, exactly like it was before this pandemic, then something is wrong."
The first minister expressed concern at images of crowded streets outside bars in England at the weekend, but said the pictures did not mean the "vast majority" of people were not obeying the rules.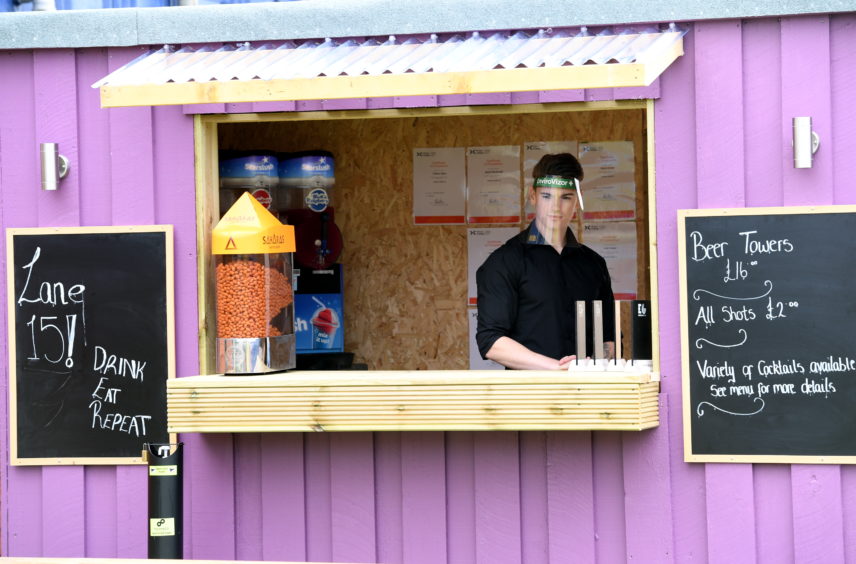 Some bars have had staff taking drinks to tables while wearing face visors to further limit the risk of transmitting Covid-19.
Others have set time limits for how long groups can sit at tables, while signs informing revellers of the rules are now a common sight.
Customers at the Innes Bar in Inverness said they were delighted to get back out and support the business.
Roy Brian, 44, from Inverness, said: "The bar sponsors our darts team and they pay for our darts shirts, so I'm glad to be back and putting money in the till.
"I know it's been a struggle for them and they do well for us, so its nice to be able to help them back."
Jordan Morrison, 19, from Inverness added: "It's so much better than a can or a bottle in the house.
"Just being able to socialise and talk to people you haven't seen for a while and play darts is actually quite nice."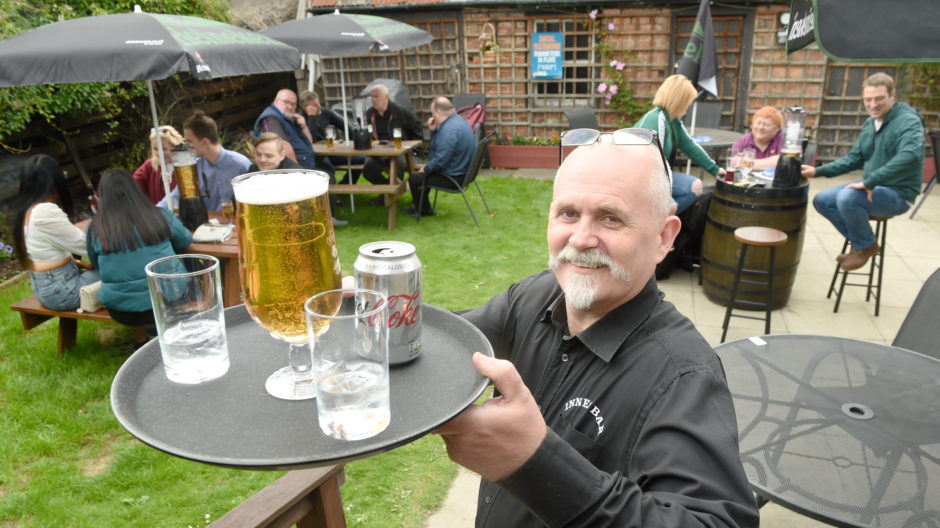 Owner Craig MacLeod said: "We are getting a lot of support from our regulars and we have also had quite a lot of people we don't know as well, which is good.
"At this time, we are not sure what is going to happen on June 15.
"We are hoping social distancing is going to be dropped down to a metre, which will help a lot within the bar.
"There is just the beer garden at the moment and it is fair to say our climate is a bit up and down."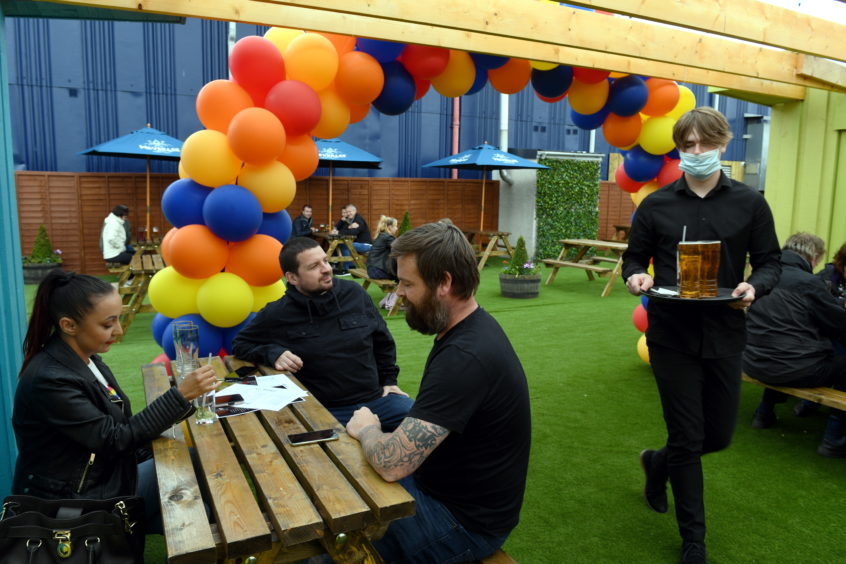 In Elgin, Pinz bowling alley created a completely new beer garden, christened Lane 15, to ensure the business could generate some income during the lockdown.
Staff and support from local firms have helped transform the overflow car park and storage yard into the bar over the last month.
Duty manager Dane Anderson said: "We know our industry is high-traffic and high-contact, so we are probably going to be one of the last places to open.
"We've been working on it for a while just so we have some income. We've tried to bring as much of the inside outside as possible."
MacGregor's Bar in Inverness extended its opening hours to 9.30pm yesterday after being inundated with reservations from eager customers.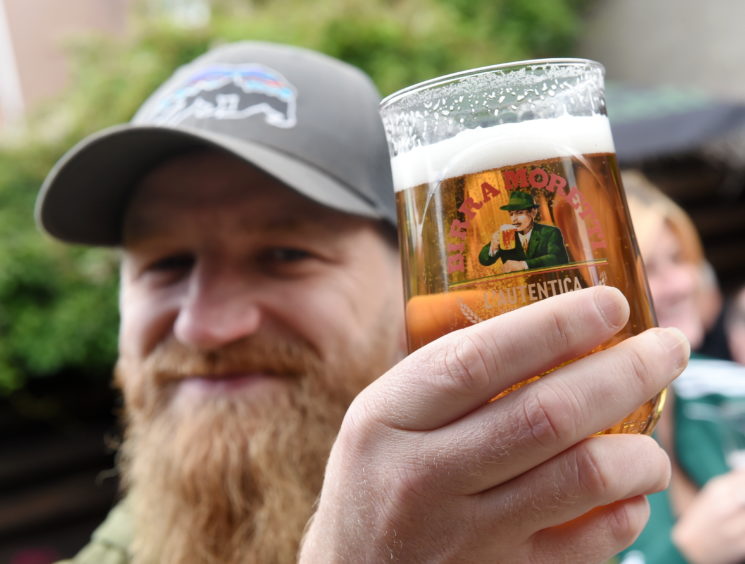 Manager Stewart Skinner said: "It's been a huge learning curve for everyone, but we are fortunate we have a beer garden and the opportunity to spread people out to ensure social distancing.
"It is heart-warming to know people want to return but I also know quite a few people who won't entertain going to pubs until it's all sorted out.
"We are just going to have to wait and see."