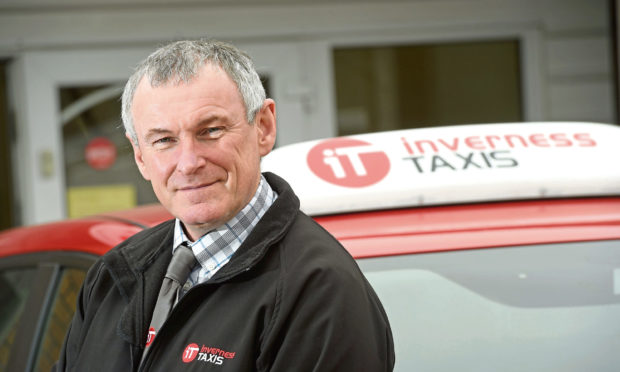 Each week, we ask small businesses key questions. Here we speak to Gavin Johnston, owner of Inverness Taxis
Q. How and why did you start in business?
A. Brought up in Inverness, I come from a family of very hard-working small business owners. My mum had a B&B and my dad had a garage.
I'm dyslexic, which went unrecognised, and I was placed in the "D" class at school. I hated every minute and left at 15 with no qualifications.
I worked for my family for a short time before I acquired my first business, with the help of my parents – an amusement arcade. I then worked for a salvage company in Africa for a couple of years before spending a year in the north of Norway on fishing boats, and I was also a lumberjack for a spell.
My mum had a 25% share in a small taxi-private hire company and I did some driving for her at the weekends. That's when I bought the 01463 222222 number for her to use – it's still Inverness Taxis' number today. When my mum passed, in 1989, I inherited her share and that was the start of my taxi journey.
Q. How did you get to where you are today?
A. I've always put 110% effort into all that I do. I built Inverness Taxis up to be the largest taxi company in the Highlands before starting Aberdeen Taxis seven years ago, with the help of Chris Douglas.
And 18 years ago I opened Autocare Inverness, now called IT Garage Services, to help keep our fleet on the road. We service and repair all makes of vehicles, as well as MOT-ing class four, five and seven vehicles. There's a staff of eight, managed by my business partner, Stewart Anderson.
My most recent venture is the getzz app, which I started with my partner, Caren. Covid-19 has hit taxis hard but home-deliveries have boomed, so we seized the opportunity to invest in our own app. Customers use getzz to buy meals from participating restaurants and have them delivered by taxi. We're now working with some great local eateries and giving much-needed work to our drivers.
Q. Who helped you?
A. My parents were there from day one with sound advice and money, and my ex-wife, Samantha, was a great help and support in the early taxi days.
I've also used the Federation of Small Businesses extensively for advice and support over the years, and for the past seven I've had Caren Santos, an architect to trade, by my side. Her thinking really helps.
However, I would be nowhere without my fantastic team, who really have gone above and beyond over the past traumatic year.
Q. What has been your biggest mistake?
A. Too many to remember. The one I regret most happened when I was around 18. I was Scottish Trials champion at the time, and one of the bike importers invited me south to work and train with their team. I declined.
Q. What is your greatest achievement?
A. I don't see myself as successful in business. My biggest personal achievement was coming second at the Red Bull Romaniacs Hard Enduro Rallye (off-road motorcycle race) in Romania in 2011. I trained extremely hard, and to stand on the podium in the expert class is a memory I will never forget.
Q. If you were in power in government, what would you change?
A. I'd ban politics from TV.
Q. What do you still hope to achieve?
A. To get into adventure tourism this summer. Staycations will again boom and people are looking for alternative holidays. The Highlands has so much to offer and Inverness is the gateway, so we'll start with e-bike tours and rental from our shop on Church Street.
Q. What do you do to relax?
A. Apart from seeing the grandkids, I like to get out on my enduro-trials bike for exercise and to clear the head, and I go cycling with Caren.
Q. What are you currently reading, listening to or glued to on the TV?
A. I've just finished reading Breath: The New Science Of A Lost Art (by James Nestor) – who knew there were so many different helpful breathing exercises! I'm watching Vikings on Netflix.
Q. What do you waste your money on?
A. Well, I have a few bikes but they're therapy. I've travelled all over Europe competing in events, and I'm down for one in Turkey later in the year.
Q. How would your friends describe you?
A. Hard-working.
Q. What would your enemies say about you?
A. I'm probably a pain to them.
Q. What do you drive and dream of driving?
A. My first car was a Jag bought from the Glasgow mart when I was 18, but I'm not into cars. I drive a Vauxhall combi van which can fit mine and my grandkids' bikes in the back, as well as the pram.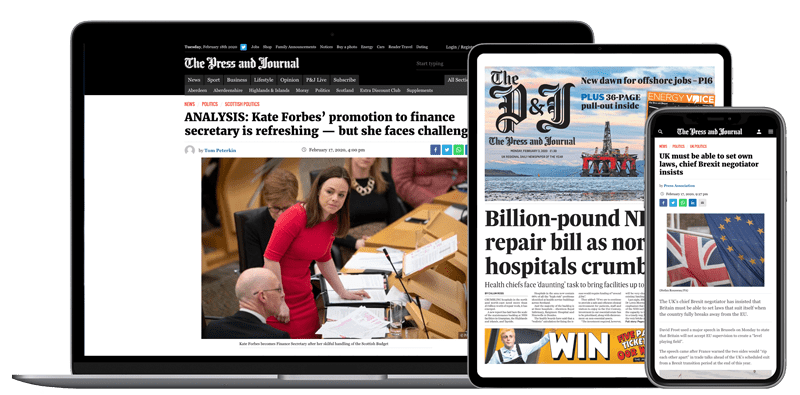 Help support quality local journalism … become a digital subscriber to The Press and Journal
For as little as £5.99 a month you can access all of our content, including Premium articles.
Subscribe