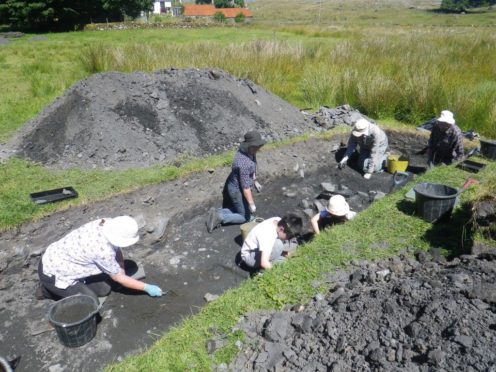 Legend has it he came to a Scottish island the year before St Columba arrived on Iona – although few are familiar with his name.
But now, a major breakthrough in the history of Lismore could have been made after archaeologists discovered a medieval cemetery on the island, potentially dating back to the time of St Moulag.
Tradition has it that St Moulag came to Scotland from Ireland in AD562, founding a monastery on Lismore one year before his more famous contemporary, St Columba, founded his own on Iona.
Prior to the most recent discovery, the only concrete evidence that suggested St Moulag had visited the isle came in the form of a broken eighth-century cross, but now a community dig close to the parish church has unveiled burials within the cemetery that are believed to date back to the seventh century AD.
Radiocarbon dating of the well-preserved bones, believed to be thanks to the lime-rich soils of the island, places one of the burials in the seventh century AD, with another dating in the late 10th century AD.
Clare Ellis of Argyll Archaeology, who led the dig on behalf of the Kirk Session and Lismore Historical Society, said: "This early burial brings us to within 100 years of St Moluag's founding of his monastery, and probably even earlier, as the enclosing cemetery wall is likely to pre-date the burial.
"Enclosed early medieval cemeteries in Scotland are extremely rare and, where they have been identified, they are associated with churches.  On Iona, the cemetery boundary is part of the vallum."
Robert Hay of Lismore Historical Society added: "I believe that we have found the cemetery of the early Christian monastery.  This is extremely exciting not only because well-preserved burials of this date are rare in Scotland but also because it helps to explain why Lismore was chosen for the site of the first Bishopric of Argyll.
"The team of community volunteers can't wait to get back to digging on the site."
As part of the dig, the keen band of excavators discovered the area focused upon was no longer being used for burial around the time of the cathedral's construction. Instead, the remains of a metalworking site and a slightly late cooking heart were discovered, with oats and barley which had accidentally been burnt found.
Dr Ellis added: "We can imagine craftsmen involved in the construction of the cathedral, making tools and nails, later resting and enjoying a well-earned meaty meal.
"The fact that the burial, immediately next to the hearth, had had its thigh bone disturbed and replaced upside-down suggests that the cook had come across more than he/she bargained for when digging the hearth pit!"
The project was funded by the Heritage Lottery Fund, with excavators hoping to resume digging in the area in 2020.