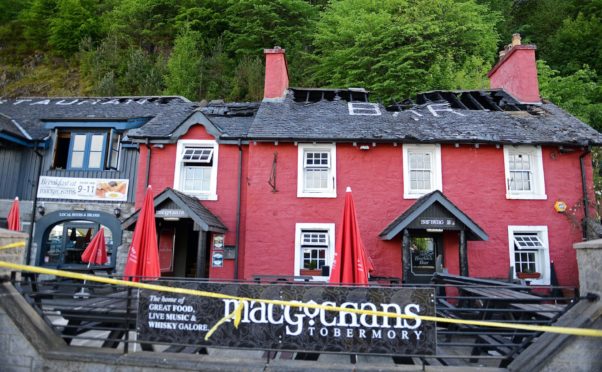 The owner of a popular island pub has vowed to rebuild after it was seriously damaged by fire.
A passing fisherman witnessed the fire at MacGochans, on Tobermory's waterfront, at 4.38am and raised the alarm. Four fire engines from across Mull – from Tobermory, Craignure, Salen and Bunessan – came to assist in what many are describing as the worst fire on the island for many years.
Tobermory, internationally known as the backdrop for children's TV programme Balamory, is a thriving fishing and tourist town on the west coast.
MacGochans sits next to the distillery and the town's busy pontoons and sailing centre.
The owner of the business Neil Morrison, who has been at the helm for almost a decade, said he was devastated by the fire.
He said: "We have just had a refurbishment of the interior of the building and it was just about looking the way I wanted it to look – now all that work is lost.
"But no-one was injured, that is the most important thing. We can hopefully deal with everything else."
Mr Morrison, who owns a number of businesses through the Highlands and Islands, vowed that his 20 or so staff would not be without work.
He said: "Our staff were our most important asset at MacGochans so will will make sure that they are looked after.
"The next thing is to rebuild. As far as I know the building can not be salvaged. So it will be a matter of rebuilding. We want to do that as soon as possible."
Councillor Mary-Jean Devon praised the community for its compassion towards Mr Morrision and his staff.
She said: "It is one of the worst fires we have seen on the island for many years.
"Neil runs a great family pub on the island and he has worked very hard to make sure it was a thriving business that offered good work for people – so it is very sad to see that it has burned down.
"Iain 'Steptoe' MacLean was heading out to fish this morning when he saw the fire – he raised the alarm.
"Our wonderful fire fighters from the island turned out, whether they were retained or volunteers, and helped to fight the blaze. Tobermory Bakery kept them going by offering rolls and coffee.
"Neil will rebuild Macgochans, and the people of Tobermory will stand beside him and help him every step of the way that they can."
Islander Robert Crumlish, a well-known local singer, told the P&J: "Everyone is thinking of Neil and his team – it is such a shock that such a major fire could happen in our village. We all thought the worst when we saw the smoke billowing over the bay this morning – so it is good everyone is safe and sound."
A spokeswoman for the Fire and Rescue Service said: "Four appliances were in attendance at the fire.
"We were called to the scene at 4.38am. The fire was brought under control by 7.36am. Watch commander Iain Noble, from Tobermory,  gave the stop sign.
"It is believed that the fire started in the roof cavity – but a full investigation by fire officers will take place."
Police had cordoned off the area around the fire.
Crews have left the scene, and accident investigators will shortly start to assess the damage for clues to the fires source.
Tourist Andrew Dudley, from Essex, said: "Before I came to Mull, a friend told me I should have a pint in MacGochans when I got off the bus in Tobermory.
"When I arrived I was so surprised to find it had been burned down."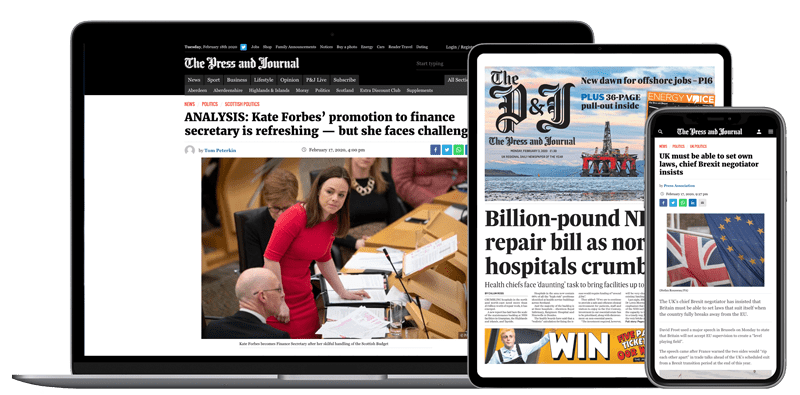 Help support quality local journalism … become a digital subscriber to The Press and Journal
For as little as £5.99 a month you can access all of our content, including Premium articles.
Subscribe