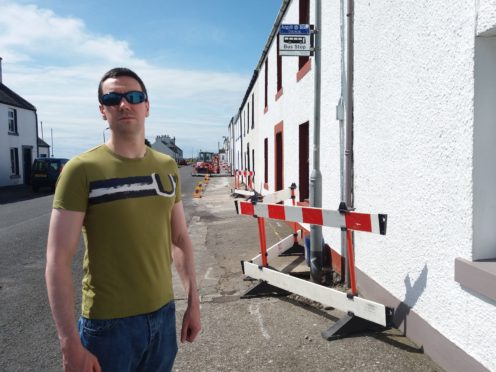 A row has erupted over a lighting scheme for a historic island village which has been described as second-rate by some residents.
Argyll and Bute council has argued the majority of residents in Port Charlotte on Islay are in favour of the scheme and will press ahead with its installation.
But now, Highlands and Islands MSP Donald Cameron has joined local councillor, Alastair Redman, in expressing his concern about the impact which the new street lighting could have on the village.
They are concerned that the installation of the lights, mounted on metal lamp-posts, could detract from the appearance of some roads in Port Charlotte, which is a designated conservation area.
They would replace wall-mounted lights and some members of the community are worried they could have a negative effect on the area.
Mr Cameron said: "A number of residents have been in contact about this matter as they fear that the introduction of these lights, which are really more suited to an urban setting, are inappropriate to their village.
"I think it is incumbent on the council to show some regard to their concerns as local people are, rightly, proud of their architectural heritage and do not want to see it compromised by the insensitive implementation of a policy which is not appropriate for their community.
"I would urge them to look again at this issue."
Mr Redman, who lives in Port Charlotte, said: "A one-size-fits-all approach is not right. Port Charlotte is a special place, recognised by its conservation area designation.
"Special provision is made for other communities, like Inveraray, and I feel very strongly that the same consideration should be given to Port Charlotte.
"People here take pride in their village's appearance and let's not see it spoiled by the wrong street lights in the wrong places."
An Argyll and Bute spokeswoman defended its position and said: "We have committed a significant amount of our street lighting budget to Port Charlotte.
"In April 2018, part of our community consultation on its replacement involved hand-posting around 200 leaflets to properties in Port Charlotte, but received a low level of interest. The majority of those who responded were in favour of the proposals.
"We have to provide a design that meets modern standards. The existing wall mounted lights are non-standard, functional lighting. Replacing like for like would not provide a level of lighting to meet current requirements."