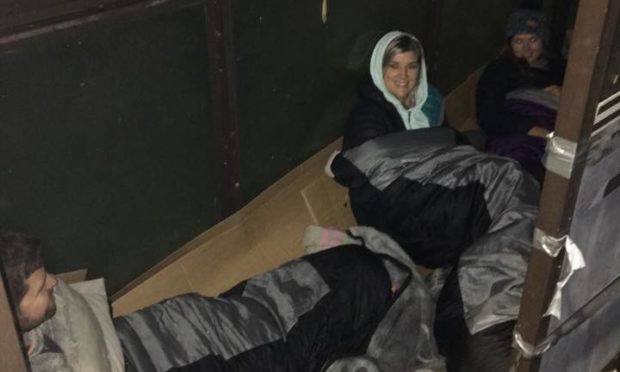 A Skye woman will make herself "homeless" later this month to raise awareness – and funds for Christmas.
Sarah Jane Reid, who hails from Kyleakin in the south of the island, will once again take to her local bus shelter to raise awareness of the issue of homelessness, which she feels is potentially overlooked on the island as the issue is not so obvious compared to areas of a larger population.
She first undertook the challenging event in December 2015 and will once again go without food and technology as she seeks to help those less fortunate.
Hi Everyone – Today is the day we launch The World's Big Sleep Out. Scotland is leading the way, hosting a Big Sleep Out event here in Scotland's capital city, Edinburgh, but this time we'll be joined by 50 cities around the world!This amazing initiative will see 50,000 people sleeping out on the 7th December 2019 to call for an end to global homelessness and raise $50m to benefit projects across the world tackling the issue. We hope EACH and EVERY ONE of you that has supported Social Bite over the years feels immensely proud that you have inspired action and a focus on homelessness across the world. Big Sleep Out events will be taking place across the UK & Ireland including London, Cardiff & Dublin and across the globe from Los Angeles to Mumbai.When we first started the Sleep in the Park events, we wanted to show the rest of the world that Scotland is a compassionate enough country to tackle this issue head on. Now, The World's Big Sleep Out will help 1 million people experiencing homelessness around the world. Please help us keep up this momentum today, do something positive and JOIN US for the World's Big Sleep Out. How it works – 50% of the funds raised through each event will support local charities – the Edinburgh event will support Social Bite as we continue our mission of ending homelessness here in Scotland. The other 50% will go to charities helping some of the 70.1 million people displaced globally who have lost their homes through war, natural disasters or extreme poverty – what better time to take action? These global charities include the Malala Fund, Unicef USA and Institute of Global Homelessness. Sign up NOW at www.bigsleepout.com and help us create a global focus and action on this issue. Sign up to an event near you, spread the message to your friends across the UK and beyond! #BigSleepOut

Posted by Social Bite on Tuesday, 17 September 2019
Miss Reid said she was inspired to undertake the initial challenge – which has now grown into an annual event – after feeling she didn't do "enough to make a difference to those less fortunate".
She added: "I am aware of how much I take the most basic daily provisions for granted but it breaks my heart to think of people being lonely and homeless.
"I just thought how fantastic it would it be to give as many homeless as possible shelter, food and company at Christmas and so decided to do the sleepout in hope to raise £500 which would allow for approximately 20 people shelter over Christmas."
Miss Reid said she couldn't believe the generosity shown as her first sleep out raised an incredible £4,000.
This year she will be joined by friends and her partner's 12-year-old daughter, who is "desperate" to do her bit.
Funds generated will go towards the Social Bite charity.
She added: "It's an enlightening experience.
"It's all about bringing the awareness up to Skye.
"It is said we are all just four payslips from being homeless ourselves – so it really is something we should be aware is going on no matter if we see it on our local streets or not."
Figures released by the Scottish Government in January revealed that local authorities received 18,486 applications for homelessness assistance between April 1 2018 and September 30 2018 – a rise of 2% on the same timeframe a year previous.
Miss Reid added: "It is so easy to get carried away in food, love and warmth and too easy to forget about others less fortunate.
"Hopefully by experiencing some of the daily struggles people face, I can do my bit to help reduce these alarming figures we have today.
"It's an extraordinary experience.
"It gives a real understanding of the hardship our homeless experience and it's so great to know the money raised is going to help Social Bite in their efforts to eradicate homelessness in Scotland."
A dedicated JustGiving page has been set up to allow for members of the public to donate to Miss Reid's efforts.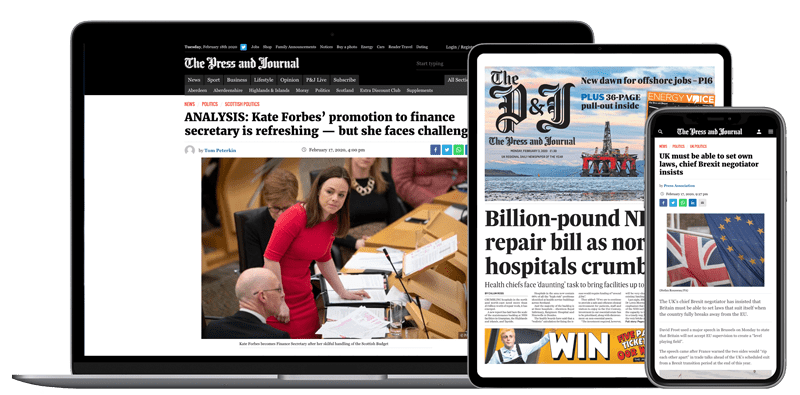 Help support quality local journalism … become a digital subscriber to The Press and Journal
For as little as £5.99 a month you can access all of our content, including Premium articles.
Subscribe