London commuters can't fail to miss the presence of a young designer from the Outer Hebrides and her business partner on underground billboards this month.
Ciorstaidh Monk, 32, from Benbecula  and Ruth Mitchell, 35, run Solàs, a luxury sleepwear company.
They were chosen by their online banking app Tide to appear in their tube advert, which shows Ciorstaidh and Ruth in their studio.
Ciorstaidh said they were one of Tide's earliest customers, and that the bank had been supportive of their business from the very start, travelling to Glasgow to meet them in person.
The tube adverts have given Solàs quite a lift, she said.
Ciorstaidh and Ruth met at Cardonald College while on a textiles course.
The two hit it off, but went their separate ways afterwards for a number of years while still keeping in touch.
Both went to work abroad and eventually found themselves back in this country, and started talking ideas.
Ciorstaidh said: " Our skills are complementary, mine in design and Ruth in prints.
"We agreed there is not enough choice in pyjamas and sleepwear, so decided to channel our creativity into a luxury range, using silk and organza, and lately linen."
The pair started with scrunchies and sleep masks before making the leap to sleep wear.
Their fabrics have been inspired by the machair of the Outer Hebrides, and Ruth's favourite rhododendrons.
Their new range is underway, called Gradients, inspired by earth shadows in the morning and evening, Ciorstaidh says.
The creative process behind their products has been gathering a strong following on Instagram.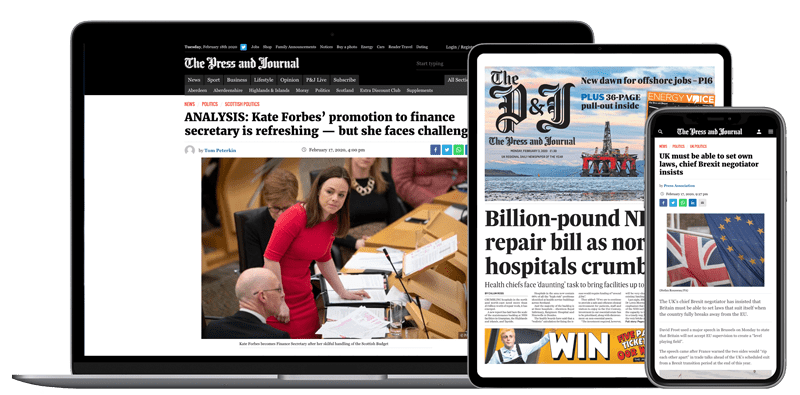 Help support quality local journalism … become a digital subscriber to The Press and Journal
For as little as £5.99 a month you can access all of our content, including Premium articles.
Subscribe