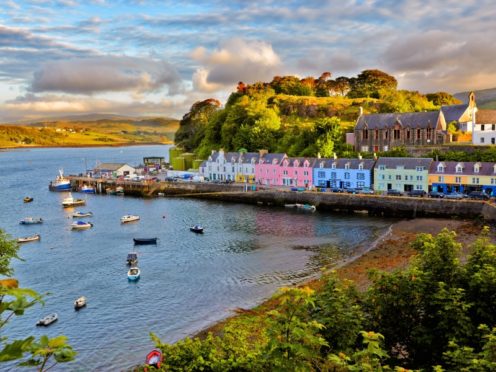 Skye residents are casting their votes in the search for an official flag for the island.
They will make the final decision on what design is worthy of becoming Skye's national emblem – and have a their own flag, as is the case in Shetland, Orkney, Caithness, Sutherland and South Uist.
A total of 369 entries were received during the course of the competition, and these have now been whittled down to half a dozen.
Over the next nine days, voters will be given the opportunity to choose their favourite design from the six shortlisted choices.
They incorporate an array of symbols and designs to represent the heritage and surrounding landscape of the island.
Honorary Vexillologist with the Court of the Lord Lyon, Philip Tibbetts, said: "The people of Skye truly delivered on the huge potential of the island's heritage.
"Hundreds of designs came in drawing on elements from Skye's name to sporting traditions, from geography to folklore and from history to its wildlife and more.
"The finalists cover many of these various facets to Skye."
He added: "It was fantastic to see so many locals, especially pupils, from across Skye make the finals. The pupils really took on board the principles of flag design and Scottish heraldic tradition."
More than 200 school pupils from across Skye submitted designs, while dozens of entries were received from foreign nations.
Mr Tibbetts saidd: "My flag talks to schools has taught me alot about the history, character and culture of the island. Indeed, having picked up from the pupils a little Gaelic, I can say of all the entries we had "Tha na brataichean sgoinneil (The flags are great)."
Residents can cast their singular vote online until its closing date on February 29.
Project manager of SkyeConnect Alistair Danter said: "In these six designs I really feel we have a Flag for Skye that will be an instantly recognisable emblem of the island.
"I hope it will be flown throughout Skye and be a sought-after souvenir for the thousands of visitors from around the world who make Skye their destination of choice each year."