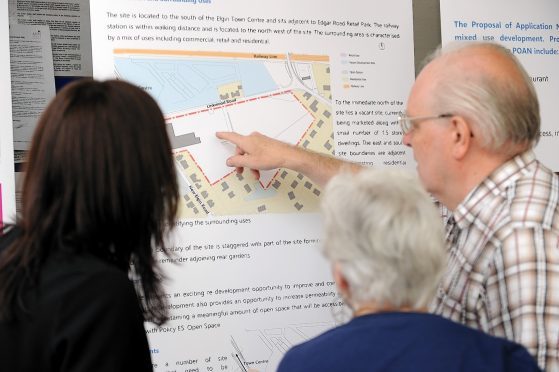 Dozens of Elgin residents flocked to find out more about plans to transform a derelict waste ground into homes, a restaurant and care home.
The developers behind the plans to transform the barren patch at Elgin's old mart, on Linkwood Road, staged a public display of their design plans yesterday.
Boards detailed the aims of the fledgling project, and offered an insight into how owners ANM Group envision its future layout.
If it is approved, a family-friendly restaurant will be opened where the auction centre currently stands – on the junction between Linkwood Road and New Elgin Road – and it will be relocated.
The proposed care home will be built beside it, facing onto New Elgin Road.
Housing will be spread out behind the two buildings, across the ground which once hosted the area's livestock auctions, and there will be two access points along Linkwood Road.
Strawberry farmer Patrick Thirkell, who lives in Elgin, was among the first people to inspect the plans.
The 61-year-old said: "There is a lovely meadow here, which I would miss, but I recognise that this is progress and we have to move on.
"I like the idea of there being a family-friendly restaurant, that's something needed in this area."
Retired mechanical engineer Daniel Scott lives near the site, and said he was worried that the same flooding fears which previously put off Sainsbury's from building a supermarket on the land could waylay the scheme.
Mr Scott said: "I would like to see the place transformed from its derelict state, but we know what the flooding is like around here and that could be a big hurdle."
ANM Group says it is working with Scottish Water, Sepa and Moray Council to "develop a strategy to address potential flooding issues".
The firm's executive director, Grant Rogerson, said he was "very encouraged" by the largely positive feedback.
He added: "The type of development is different to what has been proposed before, and it's been greeted with a lot of support."